Several killed in rail incident in Denmark
Six people have died in a train accident in storm-force winds on the Great Belt bridge in Denmark, police have said. The network rail authority, Banedanmark, said the accident happened when an express train on the suspension bridge, the world's third longest, braked suddenly after being hit by a tarpaulin or flying objects from a…
Six people have died in a train accident in storm-force winds on the Great Belt bridge in Denmark, police have said.
The network rail authority, Banedanmark, said the accident happened when an express train on the suspension bridge, the world's third longest, braked suddenly after being hit by a tarpaulin or flying objects from a freight train travelling in the opposite direction.
The national accident investigation board has launched an investigation into the crash, which happened as heavy winds from Storm Alfreda battered large parts of Scandinavia, shutting roads and bridges and leaving more than 100,000 households in Sweden without electricity.
Funen police confirmed in a statement that six people had died and a further 16 were wounded in the accident, which happened shortly before 7.35am on the bridge linking Denmark's central islands, Funen and Zealand. Police and rescue teams were still working at the site, they said.
The Funen police chief, Arne Gram, told a mid-morning press conference the incident was "a serious accident" and that an emergency reception centre had been set up in a sports centre in nearby Nyborg at the western end of the bridge, where psychological support was being offered.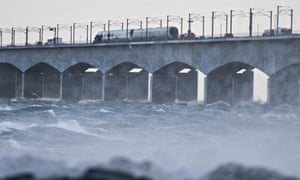 Several Danish bridges – including the Great Belt – were closed to road traffic early on Wednesday because of the storm, although most train services were running normally. Conditions initially made it difficult for emergency services to reach the train, which was carrying 131 passengers and three staff.
"The wind is exceptionally strong and coming in almost straight from the north, blowing straight across the sound and the Great Belt, the meteorologist Henning Gisselø at the Danish meteorological institute told Politiken newspaper.
Fatal accidents are rare on Denmark's well-developed rail network. The 11-mile (18km) Great Belt bridge, hailed as a major engineering achievement when it opened fully in 1998, is part of the complex bridge-and-tunnel fixed-link system that connects Denmark and Sweden to Germany.
It carries 21,000 train passengers a day, as well as more than 27,000 vehicles.