'No' Jerome Powell won't resign
Image copyright Reuters Image caption Federal Reserve Chair Jerome Powell says he is listening carefully to market signals Federal Reserve Chair Jerome "Jay" Powell took steps to reassure financial markets on Friday, saying that the US central bank would be "patient" about rate rises.He also defended his independence, saying he would not resign if requested…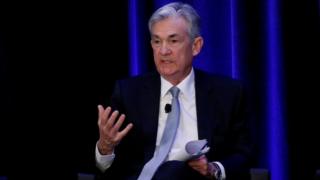 Federal Reserve Chair Jerome "Jay" Powell took steps to reassure financial markets on Friday, saying that the US central bank would be "patient" about rate rises.
He also defended his independence, saying he would not resign if requested Donald Trump asked.
Stocks in the US spiked after the remarks, made at a meeting of the American Economic Association.
The Dow and S&P 500 were up 3.4% at mid-day, while the Nasdaq climbed 4.2%.
The gains, also driven by strong job creation data, reversed sharp falls from a day earlier, extending the recent rollercoaster ride in markets.
Investors have grown nervous in recent months, worried in part about moves by the Federal Reserve to increase interest rates, despite signs of a global growth slowdown.