Prince will not be prosecuted over crash
Image copyright PA The Duke of Edinburgh will not face prosecution over his road crash near the Sandringham estate, the Crown Prosecution Service has said.The 97-year-old voluntarily gave up his driving licence on Saturday after his Land Rover Freelander collided with another vehicle in Norfolk last month.He later apologised to the occupants of the other…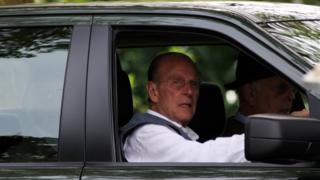 The Duke of Edinburgh will not face prosecution over his road crash near the Sandringham estate, the Crown Prosecution Service has said.
The 97-year-old voluntarily gave up his driving licence on Saturday after hisLand Rover Freelander collided with another vehiclein Norfolk last month.
He later apologised to the occupants of the other car – two women and a baby.
The CPS says it decided that it would not be in the public interest to prosecute the duke.
Chris Long, Chief Crown Prosecutor from CPS East of England, said: "We took into account all of the circumstances in this case, including the level of culpability, the age of the driver and the surrender of the driving licence."