Singapore GP final practice & debate
Related Video and AudioComing upPlay audio Singapore Grand Prix – Qualifying from BBC Radio 5 liveSingapore Grand Prix – Qualifying12:5512:55BBC Radio 5 liveGot a TV Licence?You need one to watch live TV on any channel or device, and BBC programmes on iPlayer. It's the law.Find out moreLive ReportingBy Michael EmonsAll times stated are UKPosted at…
Related Video and Audio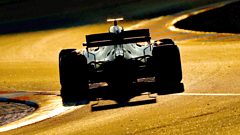 Coming up
Play audio Singapore Grand Prix – Qualifying from BBC Radio 5 live
Got a TV Licence?
You need one to watch live TV on any channel or device, and BBC programmes on iPlayer. It's the law.
Live Reporting
By Michael Emons
All times stated are UK
Jolyon Palmer

Former Renault driver on BBC Radio 5 live

It sure looks like an engine for Kvyat and that is going to be a rush to get that fixed for qualifying.

That is at 14:00 BST later on.

Daniil Kvyat has smoke coming from the back of his Toro Rosso. Fire extinguishers at the ready as soon as he gets into the pits.

"Box now, box now, box now, box now," is the rather panicky message from his team over the radio. He gets back nice and safely, but that could be the end of his session.

Sebastian Vettel, like his team-mate on the softs. is nine tenths away from Leclerc. But we could well have a three-team battle for pole later on. That Leclerc effort of 1:39.364 is looking like a big leap forward from Ferrari.

Vettel though will be hoping for better.

Jolyon Palmer

Former Renault driver on BBC Radio 5 live

That's a bit tasty from Leclerc.

Lewis Hamilton was the fastest yesterday and he makes a move to the top. However, he's on the mediums, Leclerc is on the softs and he then sends in a 1:39.3.

Looks like Ferrari are here for business today after a pretty unimpressive Friday. That's encouraging.

Getty ImagesCopyright: Getty Images

Blackburn Lad: How about turning Monaco into a night race, it would put Singapore in the shade? Can't understand why it is a classic, more of a borefest apart from the walls.

Keep it positive, Lad!

An early benchmark for us is Valtteri Bottas' effort of 1:40.926, but that is more than a second slower than yesterday's best so that time will be trimmed down soon.

Only Bottas and Hamilton have ventured out on the mediums. Thirteen others are on the track, but all on the softs.

Sarcasm / boredom from Racing Point.

Valtteri Bottas on the mediums is one of the first to get us going. Finally.

Getty ImagesCopyright: Getty Images

JJ Jackson: Is Singapore the only modern track to have reached classic status?

Anyone?

A very peaceful, gentle start to the day. No-one can bother to get out there in the opening five minutes. In your own time lads.

We're off for session three. Just the hour. Let's go.

Getty ImagesCopyright: Getty Images

Stephen Taylor: This weekend has to be the one where Vettel beats Leclerc. He is usually good around here so losing to Charles here would be difficult to take.

We're live with our commentary and you will only find it online today so press the play button at the top to listen along to Jack Nichols, Jolyon Palmer and Jennie Gow.

'The car was feeling relatively good'

Andrew Benson

BBC Sport's chief F1 writer in Singapore

Things were looking better
than normal for Williams on Friday. George Russell was 18th, splitting the Haas
drivers, and only a couple of 10ths off Kimi Raikkonen's Alfa Romeo. It revived
memories of Hungary, where Russell just missed out on making it into second
qualifying.

But Russell was playing down expectations. "We did a very good job
for an FP2 session," he said, after his first day at Marina Bay. "My lap was
really hooked up and the car was feeling relatively good. I think we have a
good baseline at the moment and probably the lap times looked a bit better than
they really are."

EPACopyright: EPA

A reminder of our tyres in play this weekend.

Vettel faster than Leclerc on Friday

Andrew Benson

BBC Sport's chief F1 writer in Singapore

EPACopyright: EPA

Sebastian Vettel could do with
a good weekend after a difficult run of late, and his time here has started off
well. Ferrari were off the pace on Friday, as expected, but at least from the
German's point of view he was the quicker of the two drivers. Charles Leclerc
had a difficult day, his running in the first session truncated by a gearbox
failure, and then not happy with his car in the second session.

"In P2 I did
not feel confident with the car or with the track," Leclerc said, "so I just
need to work for tomorrow and try to improve the driving. No big deal, it
happened quite many times that on the Friday it was not where I wanted it to
be, so I need to work and hopefully tomorrow will be a better day." Is Vettel
finally going to break Leclerc's run of seven races qualifying ahead?

BBC Weather's Ian Fergusson has just given us a weather update. Another hot and sweaty Singapore day.

As always you have a role to play in all of this so send us your thoughts, observations and bad jokes.

A few things to talk about today…

Can Verstappen stop Hamilton getting pole?
What about the rest? Can Ferrari have a strong day?
Vettel is close to a ban, will that affect his driving?
Who will be best of the rest?
Any other business?

Tweet us if you want using #bbcf1.