Super Series final: Taylor v Prograis with two world titles at stake
Related Video and AudioComing upPlay audio Dereck Chisora v David Price from BBC Radio 5 live sports extraDereck Chisora v David Price20:3020:30BBC Radio 5 live sports extraComing upPlay audio Josh Taylor v Regis Prograis from BBC Radio 5 liveJosh Taylor v Regis Prograis21:3021:30BBC Radio 5 liveGot a TV Licence?You need one to watch live TV…
Related Video and Audio
Coming up
Play audio Dereck Chisora v David Price from BBC Radio 5 live sports extra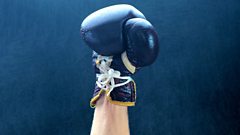 Coming up
Play audio Josh Taylor v Regis Prograis from BBC Radio 5 live
Got a TV Licence?
You need one to watch live TV on any channel or device, and BBC programmes on iPlayer. It's the law.
Live Reporting
By Michael Emons
All times stated are UK
Post update

Round 10: Ricky Burns v Lee Selby

A sweeping left hook from Selby thwarts a Burns attack, but it is not long before Burns unleashes a three-punch combination. But the Selby defence is strong, with the shots bouncing off the fists, not the face.

Post update

Round 9: Ricky Burns v Lee Selby

Ricky Burns is the one smiling a lot in the ninth, which has been a bit scrappy.

Tony Sims, in the Burns corner, tells his man that he "needs to push on" and urges for more variety, with the uppercuts a potential route to glory. Three to go.

Post update

Round 8: Ricky Burns v Lee Selby

Some more afters in round eight, this time a left hook from Selby which bounced off the side of the Burns head seems late. Four rounds to go though and you could still make a case for either man winning.

Into the "championship rounds". Both men have been here many times, obviously. Whoever finishes stronger could win this one.

Post update

Dereck Chisora v David Price.

Back stage, Dereck Chisora is working on his power punches. David Price had better not be on the end of anything like this or it will be all over.

That one is next up.

Post update

Round 7: Ricky Burns v Lee Selby

That seventh was a good round for Burns, probably what he needed as Selby had just been threatening to move clear in this one.

Post update

Round 7: Ricky Burns v Lee Selby

Early in the seventh, Ricky Burns is warned for leading with the head. The frustration appears to be growing from the Scottish fighter.

But then a good flurry from Burns, maybe some of his best work of the contest, landing one, two, three head shots as Selby gets on his heels trying to avoid the damage.

A career-defining fight – Selby

Ricky Burns v Lee Selby

Earlier this week, Lee Selby called this contest a career-defining fight…

"Ricky Burns is a great fight for boxing fans; it is a real 50/50 fight," Selby said. "It's a former three-weight world champion against a former world champion and that makes for a great night.

"There is a lot on the line, career-defining you could say. If Ricky Burns loses to me then it looks like retirement for him.

"If I lose, then I have to be realistic and say it doesn't look like I am going to win another world title and I will have to drop down a level. It's the only way to look at it. I am a realist and if I can't beat Ricky Burns I am not going to beat one of the world champions.

"I was IBF featherweight champion and retain a good ranking with them. As long as I beat Ricky Burns I should be in a position to be in a final eliminator for a world title shot and that is what I am looking to do."

'Selby looking good'

Round 6: Ricky Burns v Lee Selby

Post update

Round 5: Ricky Burns v Lee Selby

Here comes the controversy. Round five, the bell might have just gone. Selby swings at his opponent with a right to the body, Burns is furious though and then throws a punch at Selby's head.

The referee has to come in and separate then and try to keep things under control.

Both men then get a stern talking to.

As always we want your thoughts on all the action. What's going to happen tonight?

This ongoing fight, Ricky Burns v Lee Selby, do you think either of these can go on and win a world title again?

Tweet us using the hashtag #bbcboxing

Post update

Round 4: Ricky Burns v Lee Selby

Four gone and you would be a brave person to say who is winning this one. As expected from two of the sport's best craftsmen, both are having success at times.

Benn knocks out Jamoye to defend title

Earlier tonight… Conor Benn defended his WBA continental welterweight title with a fourth-round knockout of Belgian Steve Jamoye.

The 23-year-old, the son of former middleweight and super-middleweight world champion Nigel Benn, ended his opponent's night with a fierce right hook.

That's 16 contests, 16 wins for Conor Benn.

PA MediaCopyright: PA Media

There is a large crowd ringside at the O2 already. No waiting around at the bar, this is a fight between two of the best British boxers in the past 10 years.

Burns has an incredible 43 wins under his belt, from 51 contests, while Selby has only lost twice in 29 bouts.

Can you guess these Scottish boxing world champions?

Post update

Round 2: Ricky Burns v Lee Selby

Two rounds gone in London, and not much in it at all. A clash of heads, followed by a tasty sweeping left hook from Lee Selby leaves some damage around the right eye of Ricky Burns in that second round.

'Both really proud ex-champions'

There's still a lot riding on this one though, as the winner of this bout, will put themselves in the frame for a world title fight, says ex-WBO champion Alex Arthur.

"It's not a fight that either of these guys need, but it's one they both want," he told BBC Scotland.

"That is testimony to their character. These are both really proud ex-champions and still want to go on and challenge for titles. Both, in reality, leave themselves in a pretty good spot to start shouting for a title shot if they win. If they look good, something could happen for them."

Selby 'never thought path would cross with Burns'

Ricky Burns v Lee Selby

Former IBF featherweight champion Lee Selby says he never thought he would end up fighting former sparring partner Ricky Burns.

Watch an interview with the Welshman below…

Video content

Video caption: Lee Selby 'never thought path would cross with Ricky Burns'

Post update

Ricky Burns v Lee Selby

The former sparring partners, Ricky Burns and Lee Selby, are both looking to re-establish themselves at world title level at lightweight.

"There is a lot on the line in this one, it could be career-defining, you could say," Selby told BBC Sport Wales.

Welsh boxer Selby, who is 32, is currently ranked in the top 15 with three of the four main boxing organisations and has a top five rating with the IBF and WBO.

He has fought twice – winning both times but also suffering serious cuts above his eyes – since losing his IBF world featherweight title to Josh Warrington in Leeds in May 2018.

No messing about tonight, we're straight into business as we have Scotland's Ricky Burns taking on Wales' Lee Selby in the ring at the O2 Arena in London right now.

Burns is a three-weight world champion, Selby a former featherweight world champion. Both now though are fighting to save their careers.

Hello and welcome along to BBC Sport's coverage of what promises to be a great night of boxing.

This is what we've got coming up for you…

Ricky Burns v Lee Selby (lightweight)
Dereck Chisora v David Price (heavyweight)
Regis Prograis v Josh Taylor (World Boxing Super Series final, WBA and IBF world super-lightweight belts.

From 22:30 BST we will also have live radio commentary of Prograis v Taylor on 5 Live.