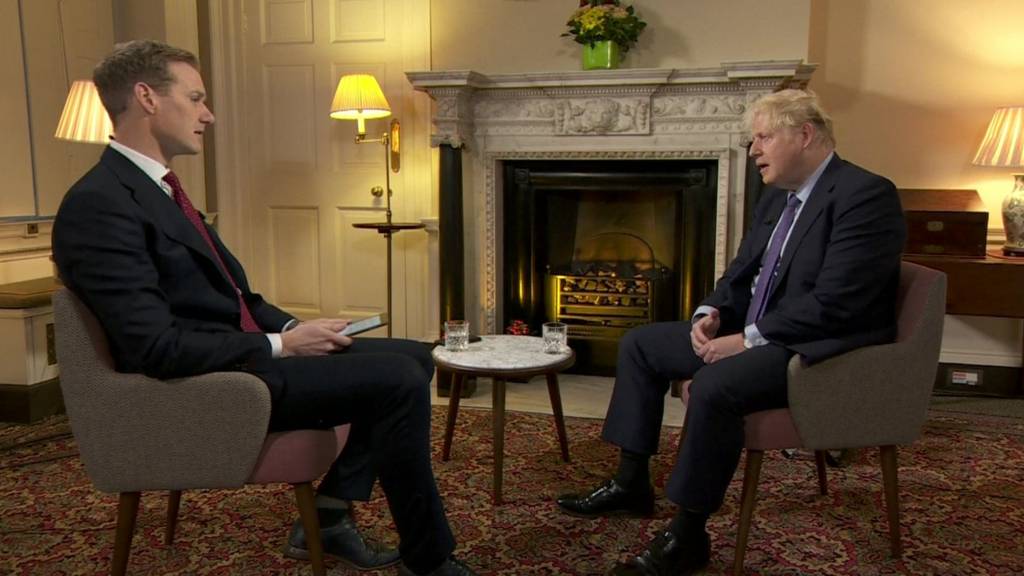 Got a TV Licence?
You need one to watch live TV on any channel or device, and BBC programmes on iPlayer. It's the law.
Johnson: Glad Iran has accepted responsibility for plane crash

BBC Breakfast

The first topic Dan Walker asks Boris Johnson about is Iran and the ongoing tensions with the US.

The Iranian president has spoken about the shooting down of a Ukrainian passenger plane that killed 176 people.

Speaking from inside Downing Street, the prime minister says he is "glad they have accepted responsibility and identified it as an appalling mistake".

He says that "clearly Iran made a terrible mistake", but adds: "The most important thing is tensions in the region calm down."

Mr Johnson adds: "Iran is an amazing country. They should be orientated towards… our way of doing things, yet they are the captives of the approach [their] government has."

What a difference a majority makes…

PA MediaCopyright: PA Media

After December's election, Boris Johnson is in a much stronger position than he was previously, with a majority of 80 in the Commons.

This means plans the government puts forward are likely to pass, as there aren't enough opposition MPs to vote against them.

Such plans, of course, include the PM's Brexit bill, which passed through the Commons last week.

As the BBC's political editor Laura Kuenssberg said: "There was not a single moment of doubt, of jeopardy, no sniff of uncertainty or truly fierce debate that might have stopped it happening."

Now the legislation is in the Lords, so we can expect some debate on the topic, but little to change.

Will PM get pulled into Harry and Meghan debate?

BBC Breakfast

BBCCopyright: BBC

Dan Walker is wondering whether or not he'll be able to get the PM's thoughts about the Duke and Duchess of Sussex's plan to step back from royal life.

Katie Perrior, Theresa May's former director of communications and a colleague of Boris Johnson's when he was mayor of London, says politicians "should probably stay out" of commenting on the situation.

"It's nothing to do with him, really… it's someone else's business," she adds.

Former Labour adviser Ayesha Hazarika points out the PM might, however, know how the Royal Family is feeling.

He probably has "some sympathy" with a "high-profile family" struggling with "divisions", she quips.

What topics can we expect?

BBCCopyright: BBC

Welcome to the BBC Politics live page.

We are ready and waiting for Prime Minister Boris Johnson's first big interview of 2020.

BBC's Breakfast's Dan Walker is at No 10 for a sit down with the PM, due to start just after 08:00 GMT.

We will bring you all the news from that one-on-one so stay with us for live updates.