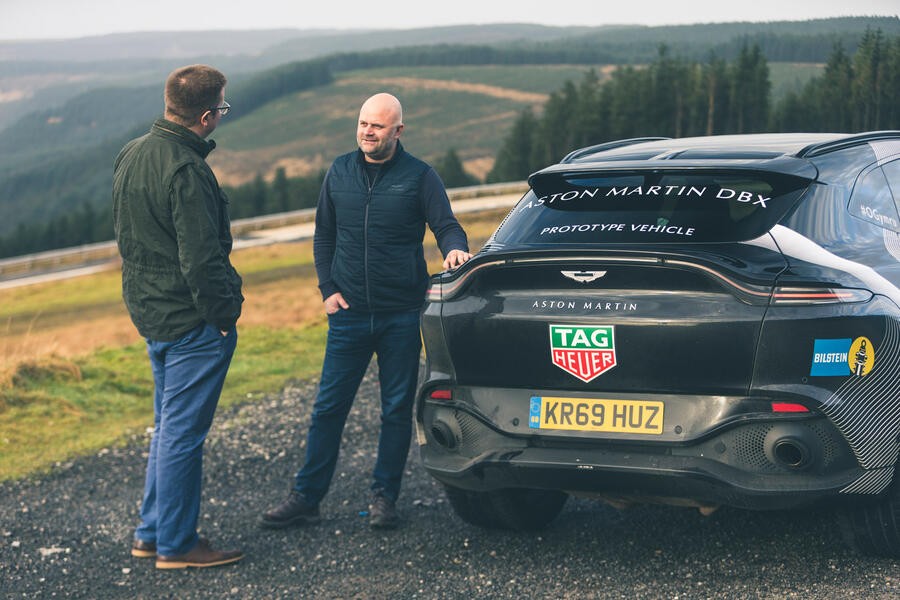 It's just over five metres long; longer therefore than a Porsche Cayenne or a Range Rover Sport, but shorter than a Bentayga or an Urus. But being long-in-the-wheelbase and lower-roofed than many of its SUV rivals, it doesn't looks its size somehow – being also rakish and tapering, with a relatively low bonnet height. I'd risk putting it on record, in fact, that it's much closer to compact- and elegant-looking than ever I thought a car like this might get. It's also not overwrought or aggressive-looking – at all. While I appreciate that recording as much will open me up to ridicule by a great many people who haven't laid eyes on the car at all, to my eyes the DBX looks like a handsome modern Aston – and, considering its necessary size and proportions, that's quite something.
Under the aluminium and composite body panels it's built around an all-new aluminium 'platform' chassis, the cost of which (combined with that of establishing the factory building it) has made the car an unusually sizable investment. It carries over very little from Aston's wider model range, powered instead by a 4.0-litre turbo V8 sourced from Mercedes-AMG but not quite the same one that you'll find in the Vantage and DB11. It's effectively the same motor that appears in a Mercedes-AMG E63 S super saloon, and it comes packaged with the same 'active' four-wheel drive system and torque-vectoring rear differential as that car uses.
Where its driveline makeup differs from that of the hot E-Class is for a gearbox; where the Merc uses a seven-speed multi-clutch gearbox for faster shifts and greater outright torque capacity (and other modern Astons use a ZF eight-speed auto, of course), the DBX uses Mercedes' nine-speed torque-converter automatic 'box for smoother changes – and importantly so that Aston could engineer-in the near-three-tonne towing capacity and the low-speed torque multiplication that it knew some DBX owners would want. Using the nine-speed box also meant that Aston had to limit engine torque to a peak 516lb ft – but with an updated gearbox of greater torque capacity apparently in the pipeline, and given that we already know how much more torque that engine can produce, there may well be more grunt to come in the not-too-distant future.
Suspension is via four-chamber air suspension that can be adjusted for both spring rate and ride height, with adaptive Bilstein dampers and 48-volt 'roll-cancelling' active anti-roll bars. Two-out-of-those-three technologies have never been adopted by any Aston Martin before, but they're pretty standard fare amongst the cars with which the DBX must compete – and so Aston Martin development guru Matt Becker and his team decided early on that the car would have 'em. Ride height can be adjusted through almost 100mm of travel in total.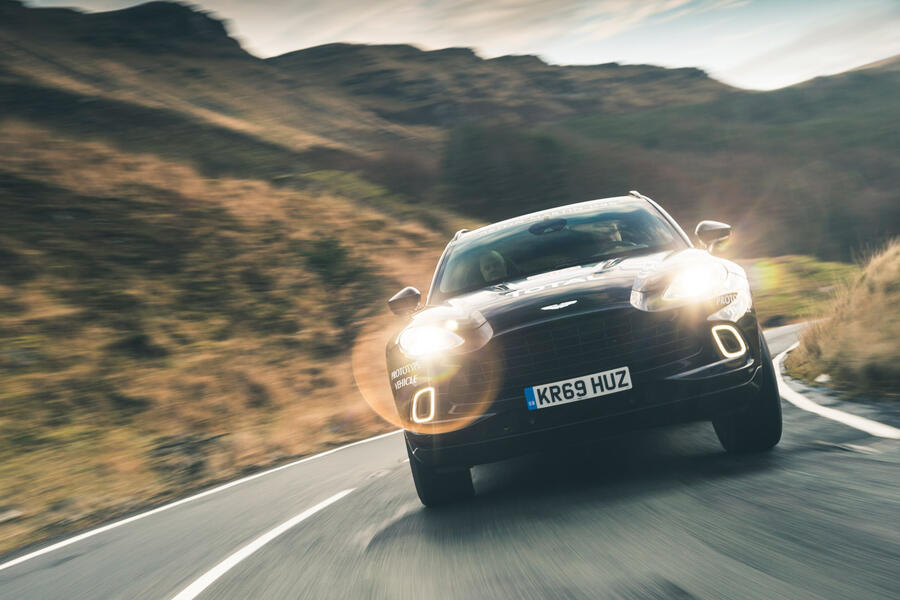 What the DBX doesn't have, interestingly, is four-wheel steering – and not by chance, as Becker explained from the passenger seat during our test drive. "We've 'protected' four-wheel steering for the car, so we can use it later if we feel it's necessary," says Becker, "and I appreciate what it can do for a car like this on low-speed agility and outright lateral grip. But, honestly, I just don't like the effect it can have on steering and cornering behaviour. Too often I find myself having to 'steer' cars that have 4WS several times on the way around a corner, because they can be over-responsive and a bit unpredictable generally. And we really wanted the DBX to feel natural, intuitive; easy to place."
It's not a stretch up to get into the DBX, and it's not a car most will need to duck to enter either. You sit more recumbently than in most SUVs, and feel more enclosed because of the high windowline, the slim glasshouse and the fairly 'fast' windscreen angle – but also because door panels wrap reasonably closely around your outboard elbow.
The rich, enveloping cabin has a more cosy feel than you're expecting, then – but it's also usefully roomy. There's plenty space for bigger adults in the back, while Aston claims 632 litres of boot space. It's certainly a cargo bay of a very good size, and looks like it ought to swallow bulky objects like pushchairs, golf bags and dog boxes with space to spare. There will be more practical SUVs I dare say, but the DBX ought to do very well for people who've been waiting for genuinely usable, comfortable and versatile four-seater from Aston Martin.
Despite its only medium-high hip point and rakish screen, the car offers good forward visibility thanks to its lowish scuttle – and because you can see the front corners of bodywork directly above the front wheels, it's easy to judge the car's size on the road and it doesn't feel any larger than it needs to.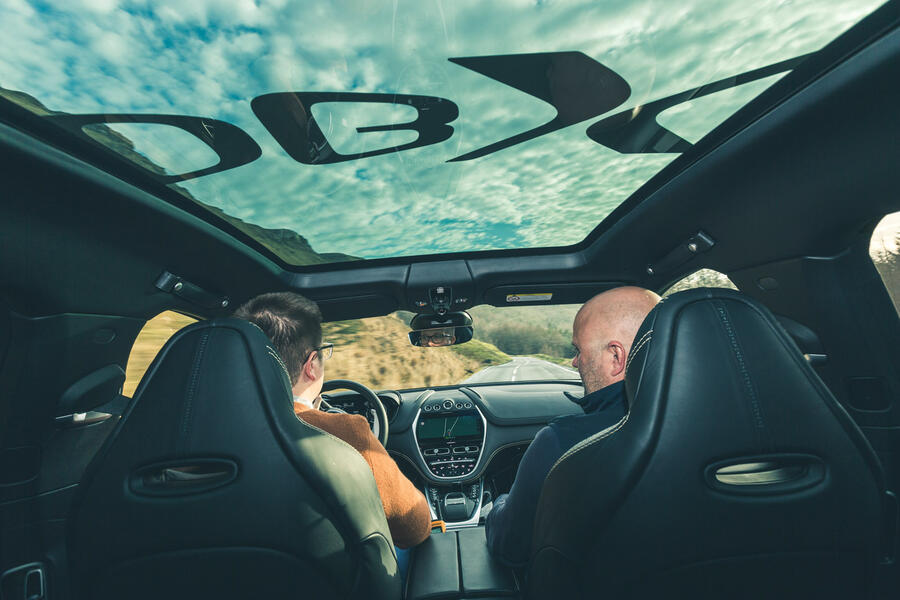 When you're using the car's most laid-back and comfortable 'GT' driving mode, you'd characterize the ride and handling in similar terms to those of the last four-door GT that Aston made, the likable Rapide S. It's a very comfortable car and a reasonably well isolated one too, even on 22in rims. The difference from the Rapide experience here is, of course, that that everything happens at a foot of greater altitude from the surface of the road.
There is no doubt that, despite of its greater bulk and raised body profile, the DBX becomes tauter, quicker and more agile than the Rapide ever was when you put it into 'Sport' and 'Sport+' modes, as it squats over its wheels, gathers its powers of body control and responsiveness and takes on plenty of convincing sporting purpose. That's perhaps the most meaningful dynamic compliment I can pay the car, and the team behind it; that it develops and improves the capacities of the four-door Aston at once to perform, to engage, to handle and simply to comfortably and agreeably transport, in apparently opposite dimensions all at the same time.
Performance is very serious indeed and nicely flexible throughout the rev range, but not brutal or savage like you'll find in an Urus in full cry – just as the DBX's 4.5sec 0-62mph claim would suggest. Aston wanted the car to be class-leading for handling balance and steering, as Becker explained, and was content for it to be 'among the best' for acceleration and ride isolation – and, broadly, that's how it seems. Although the ride is cushioned and fluent in all but 'Sport+' mode and over all but the nastiest surfaces, sharper lumps and bumps in the tarmac do clunk through into the cockpit just a little bit.
Steering, however, is natural-feeling, ideally weighted and linear in its pace at all times; and handling is ever-predictable and intuitive, and secure yet balanced and poised, making the DBX surprisingly composed, controlled and agile for such a big, tall car. It's even more fun on loose offroad surfaces (see sidebars), as some rallycross-style gravel cornering at the Walters Arena very vividly demonstrated.
All up, the Aston Martin DBX makes quite the first impression, then: one of a car that's smaller and more outwardly appealing, sweeter-to-drive and just a little bit more of a moderate than you expected it to be. One of a super-SUV, and whisper this, that's been carefully considered in its design and positioning, and configured with just a little bit of willingness to judiciously compromise. And what a turn up that is.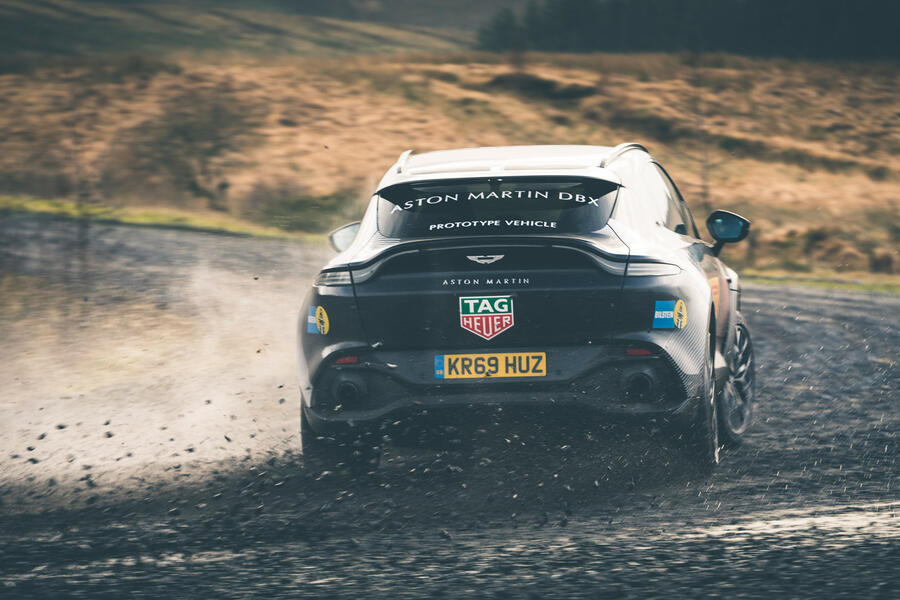 OFFROAD: how does the DBX deal with gravel, mud, rocks and deep water?
Walters Arena, near Merthyr Tydfil, granted a chance to find out how the DBX might handle wet gravel, mud and rocks, and some deep standing water. Much as few owners of a near-£200,000 car would ever be likely to find out with their own purchases, it handles all very capably indeed.
The car's air suspension and active anti-roll bars are apparently key in producing the chassis' ability to stay level and to rotate into corners when you select 'Sport+' driving mode. So explains Matt Becker as you approach a wide gravel bend in 3rd gear, then throw the car's nose into the apex on a trailing throttle and feel the rear pivot benignly wide as its rear-axle roll stiffness peaks. The car's mid-corner handling adjustability is better off the throttle than on it; the driveline allows you to maintain a neutral attitude easily but will more often pull the car straight with lots of power than allow you greater slip angle. Still, it's huge fun to slide about in.
At much lower speed, some wading is possible (max depth is 500mm), while the DBX will crawl over smaller rocks easily enough, although its offroad modes could provide a more progressive throttle pedal map.
On 22in wheels and mid-range all-season tyres (winter tyres and performance tyres will also be available) there was decent enough traction on mud for fairly steep climbs and decents, with standard-fit electronic Hill Descent Control helping on the latter. Outright offroad capability clearly isn't what the DBX is about – and more clearly still, it needn't be. What owners are likely to ask of it, however, it seems quite ready to cope with.
Matt Saunders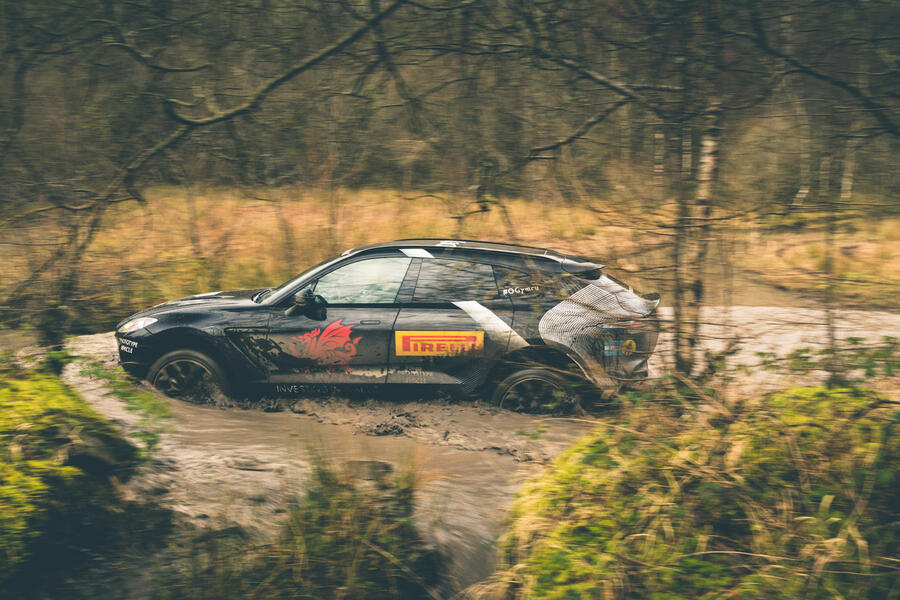 …and how does it deal with the desert? by Mike Duff
So after Wales in the rain, the less relevant question of how well the DBX deals with the desert of Oman. I got to fly out in December to experience a same-generation prototype to the one we drove in the UK, on a route that included more than 100km of gravel and dirt.
On tarmac the DBX's native rearward torque bias only becomes obvious under faster progress, but on the loose it is always heavily evident. Even in the car's default GT mode it is clear that most effort is heading to the back axle, with the electronically controlled biasing differential then helping the car to turn by overspeeding the outside wheel. The upshot on longer, faster corners is a modest but discernable yaw angle that the car both achieves and seems to hold by itself.
Of course, that's just where the bidding starts, with the more aggressive Sport and Sport Plus dynamic modes increasing both the car's natural angle of attack and also increasing the intervention threshold of the stability control. But even with this switched fully off – at Becker's suggestion – the DBX stayed both stable and adjustable on sweeping gravel corners, although the suddenness with which the AMG V8's torque peak arrives required some respectful throttle technique.
While all this was hugely fun, the DBX's suspension impressed more. The combination of speed and big bumps is one that few road cars can comfortably deal with, a point made by the heaving ride of Aston's Toyota Land Cruiser support vehicle as it followed behind. Yet the DBX's combination of generous suspension travel and pillowy air springs enabled it to digest rough surfaces amazingly well, taking ruts that would get me bracing for impact without effort. The active 48 Volt anti-roll can still be felt working on slippery surfaces, the extent to which it cancels lean immediately obvious when the prototype's system failed, turning the Aston's speedboat impression into one of a bulk carrier. A stop-and-start reset got it working again.
Adjustable ride height is another of the air suspension's neat tricks. I didn't do any serious rock scrambling, but the ability to add up to 45mm to ride height in Terrain Plus adds reassurance when maneuvering over sharp rocks.