'The Lovebirds' Review: The Comedy Takes a Familiar Formula and Breaks New Ground
Netflix's new comedy, The Lovebirds, shows a couple's lives being turned upside down after someone uses their car to commit a murder. They spend the rest of the movie trying to solve the mystery behind the murder to avoid going down for the crime. Leilani (Issa Rae) and Jibran (Kumail Nanjiani) have gotten to the…
Netflix's new comedy, The Lovebirds, shows a couple's lives being turned upside down after someone uses their car to commit a murder. They spend the rest of the movie trying to solve the mystery behind the murder to avoid going down for the crime.
Leilani (Issa Rae) and Jibran (Kumail Nanjiani) have gotten to the point in their 4-year relationship where they have small issues that lead to cute bickering. But it doesn't take long for the audience to realize what their major issues are before their lives are changed.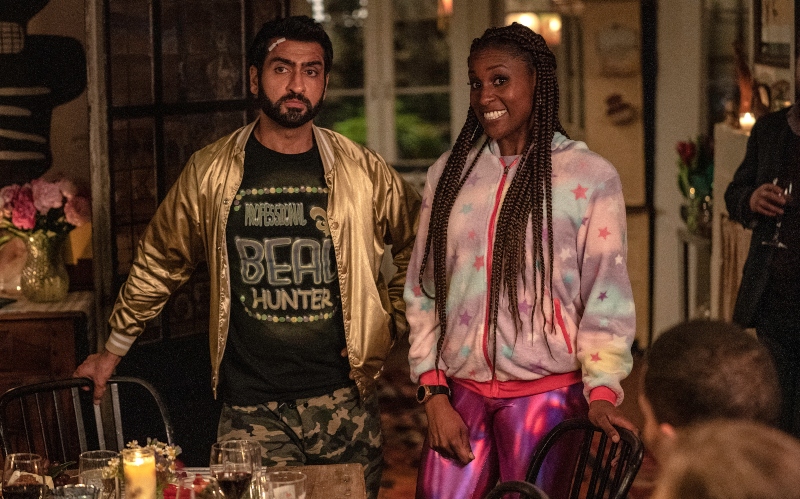 RELATED: 'Insecure': Will Issa and Lawrence Get Back Together? Jay Ellis Finally Answers
The chemistry between Rae and Nanjiani is at its strongest in the beginning of the movie. You might catch yourself smiling when they're falling in love or when they're having a silly argument. However, some of the spark of that is lost once the characters go on their adventure. That's when the movie leans more on the comedy and action.
Some of that comedy works with the writing of a minor character that tries too hard to be charming by ripping off professional comedians. The moments that don't land tend to be when Jibran gets nervous and starts talking like a standup comedian himself by riffing off of things like milkshakes.
The comedy hits the same beats that many others have covered in the past. It has multiple sloppy fight scenes, awkward ride sharing experiences, and the characters fail at blending in at events. Date Night starring Steve Carell and Tina Fey might be the best comparison to this new release.
RELATED: 'The Eternals': The Moment Marvel's Kumail Nanjiani Realized He Took Working Out Too Far
One thing that sets The Lovebirds apart is that it focuses on an interracial couple that doesn't involve a white partner. Race is hardly mentioned in the movie except when the couple is on the run from cops. They don't think cops would believe what really happened because of their race and they joke about it, but it's very much their reality.
The movie does a good job of using a familiar format with a diverse cast, then acknowledging what life would be like for the characters. However, it also doesn't get bogged down by it. This pushes the comedy with a very familiar formula into breaking new ground for the industry.
Another shining part of the movie is Paul Sparks, who plays the villain. He does a good job being menacing then delivering lines that are unexpectedly funny. Leilani and Jibran's mission always picks up when he enters a scene.
RELATED: Issa Rae Says This 1 Movie 'Made' Her 'Want to Be a Filmmaker'
The Lovebirds was moved to Netflix due to the pandemic, and it feels like a good move. The comedy is a nice distraction that you could enjoy at home.
Rae and Nanjiani are a fun pairing and hopefully they will work together again in the future. Chances are we won't see these characters again after this movie, but I was left wanting to see them on another adventure by the end.
The Lovebirds will be available on Netflix starting May 22.