Chinese chicken stir fry recipe is one of the best meal plans for those who want to try something different from the regular chicken curry or other commonly consumed chicken recipes. This recipe again maintains the legacy of Chinese cuisine which is well admired for their highly delicious plus experimental recipes which not only adds a special taste in your regular meal but at the same time are highly nutritious as well.
The stir fry recipe is a perfect combination of chicken, vegetables, garlic ginger soy sauce, and honey. This develops a perfect blend of savory taste along with moderate sweetness. Try this one time at your home, we are a hundred percent sure that this will become a favorite recipe of you as well as your family members.
If you want to try something new then serve this amazingly delicious recipe on your dinner table and stay ready to get those wonderful appreciations from everyone for your cooking. The best part of this recipe is that you can add any of the vegetables which are your favorite or currently available in your home. No matter what ingredients you are adding in it the ultimate product always comes in the form of wonderful cuisine.
This is an easy dinner meal that you will surely not feel bothersome to prepare and include in your frequent meals routine. You can use different chicken pieces in it as it brings a delicious taste with cut-up chicken. However, make sure that your pieces are cut evenly to ensure that the overall chicken cooks well.
Don't forget to marinate the chicken pieces to tenderize it, lay them flat in the skillet or wok. Toss your cut veggies and chicken pieces with sauce and your handy dinner recipe will be ready to eat within few minutes.
This recipe is the best meal option for the days when you are extremely tired but want to eat something delicious or want to please your guest with your special cooking talent. If you want to try less spicy flavor then you are free to switch chili oil with sesame oil.
In all the forms it tastes amazing, different and delicious. You can add cashews, water chestnuts, etc to enhance the taste and nutrient value of your stir fry recipe.
Chinese Chicken Stir Fry Recipe#1
This chicken stir fry recipe is very easy to prepare even in your busy day schedule. The chicken pieces along with vegetables smothered in garlic and ginger soy sauce with honey create a perfect blend of savory and sweetness.
Ingredients
1 ½

Pounds

chicken breast

(cut them into 1 to 2-inch pieces size)

1

Tbsp

ginger (minced)

2

cloves garlic (minced)

3

Spring onions

(white parts thinly sliced and green part reserved)

3/4

cup unsalted cashews

1

Can whole water chestnuts

1

cup sliced carrots

1

Pound

mushrooms

(cut into large pieces)

1

Tbsp

cornstarch mixed with two tbsp water

1

Tsp

chili oil

2

Tbsp

peanut oil

(for stir-frying)

3

Tbsp

soy sauce

3/4

cup water
Instructions
Collect all the ingredients first and chop them appropriately.

Mix the chili oil, ginger, garlic, soy sauce, spring onions and water in a bowl and keep it aside for preparing the sauce.

Now place a dry wok on medium heat and cashews in it. Toast it at least for one minute. Keep stirring so that it won't burn until it toasted slightly and then remove cashews.

In order to stir fry your chicken, heat the two tbsp of oil in the wok. Add the chicken and stir fry it until it turns to light browned color for 5 to 6 minutes. Once it fries remove the chicken and pour it on a plate.

Then stir fry other ingredients like carrots, mushrooms and water chestnuts about 3 to 6 minute time.

After that add stir fry chicken, sauce and cashews. Stir them well and cover the wok. Let all your ingredients cook for at least 3 minutes' time.

Now add the cornstarch and water mixture in it and stir it well until it thickens.

Remove the wok from heat and serve your Chinese chicken stir fry recipe hot on your dinner plate and enjoy your meal. You can serve this recipe with white rice.
Chinese Chicken Stir Fry Recipe#2
This Chinese chicken stir fry recipe is a much better meal option than takeout. Make it with a few simple steps and easily available ingredients and serve it hot on your dinner table.
Ingredients
1

Lb

chicken thighs

(cut into bite-sized pieces)

8

oz

mushrooms (sliced)

1/2

zucchini (cubed or sliced)

1/2

onion (cubed)

1

Small size carrot (cubed or julienned)

1

cup broccoli (cut into florets)

1/2

Red pepper cubed

1

Tsp

Fresh ginger (minced)

4

Garlic cloves (minced)

1/2

cup cashews

2

Tbsp

oil

1

Tbsp

butter

1/2

cup chicken broth (for stir fry sauce)

1/4

cup soy sauce

1

Tbsp

cornstarch

2

Tbsp

honey

1/4

cup water
Instructions
Cut the chicken thighs into bite-size pieces after trimming its excess fat. Cut all the vegetables into even-sized pieces. Keep them in the same size as the chicken thighs pieces.

Combine all the ingredients in a bowl for preparing sauce.

Now place a large pan or wok on medium heat and heat one tbsp oil for stir fry. Add chicken in this hot oil in a single layer. Cook the chicken pieces until it browned. Remove the cooked
chicken from pan and set aside.

Now add the remaining oil and butter and all cut veggies such as mushrooms, zucchini, broccoli, carrots, onion, and red peppers. Cook the vegetables until it crisp-tender and mix frequently.

Add chicken back, ginger and garlic to the pan and cook for 1 minute. Stir them frequently.

Mix the cashews now and pour the sauce into the pan and let it boil for a while. Reduce the heat and stir fry the ingredients on simmer until the sauce mixes well with other ingredients and takes a good thicker consistency.

Garnish your sit fry chicken with sesame seed and green onion and serve it hot on your plate.
Notes
You can serve your Chinese chicken stir fry with noodles, white rice or plain fried rice. This chicken stir fry is loaded with nutrients with multiple veggies, nuts, and chicken pieces. You can experiment with some other healthy veggies of your choice as it will no way change or reduce the taste value of this delicious recipe.
Health Benefits of Stir-Frying Recipes
There are several amazing health benefits of eating stir fry recipes versus other common cooking forms. This is because in usual cooking methods we deep fry the ingredients resulting in it developing favorable conditions for more oil retention.
Hence it increases the calorie content of your prepared food by double or triple. This is the reason why deep drying foods are highly unhealthy for your body and overall health. People who consume deep dry food more frequently are quite likely to develop different health issues including minor to major.
On the other hand, when you follow or incorporate stir-frying in your cooking method which is a very age-old cooking method of traditional Asian, your food absorbs a very little amount of oil and calorie.
Whatever you cook with this particular cooking technique it will retain a very little amount of oil with a comparison to deep frying. By consuming stir fry recipes in your regular life you can easily grab the following health benefits.
High Nutrition Retention
As the stir-frying recipes are not exposed to overheat so it retains most of its nutrients especially those which are heat sensitive. Yes, this cooking technique develops extra fumes and requires a good ventilation system but still, it is worthy to make because of its high nutrition absorption ability which makes it healthier than the deep frying foods.
Give Appealing Look to Foods
During the stir-frying cooking process food burns for a short amount of time which helps in keeping the vegetables more colorful that really looks beautiful and appealing to boost your hunger hormone.
This means along with a greater level of nutrient the stir-frying recipes are also appealing by the look which again makes it superior to other cooking methods in which vegetables burn excessively and look less attractive.
Take Less Time
The cooking time involved in stir-frying recipes is much lesser than the deep frying recipe which is again another promising advantage to choose this cooking technique in your kitchen. Though you might take some extra amount of time to prepare your ingredients but the ultimate work that is stir-frying takes even less than the 5 minutes time.
This means if your ingredients are already ready then within no time your meal will be ready to serve. However, this cooking technique requires a very good range of practice otherwise the ultimate product would not be the same as it should be or it can be.
Very Cost-Effective
Stir-frying recipes are also economical one with comparison to deep drying recipes. It takes a very less amount of cooking oil with a comparison to other cooking techniques to prepare your food and there will be no compromise in taste value.
Also in this cooking method, you need to use more amounts of vegetables than the meat or other non-vegetarian items as its ingredient which again saves your money, making this recipe cost-effective one.
Also, like deep frying technique you need not to burn your stove for longer duration as deep drying requires a minimal amount of time to stir fry on heat.
Tips to Stir-Fry Your Food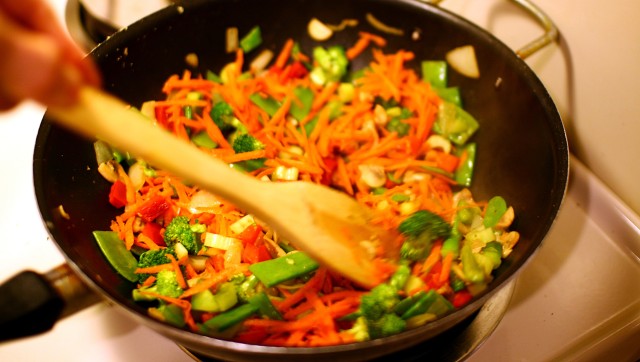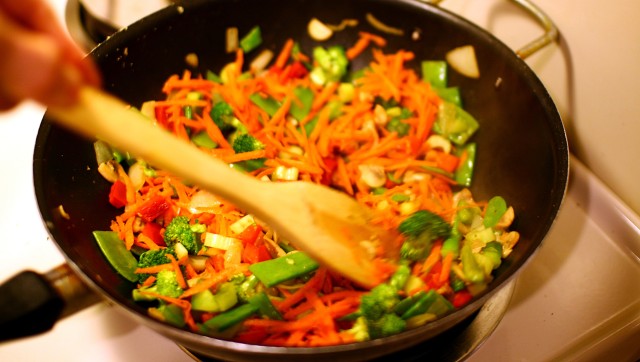 Follow the below-mentioned steps to make a healthy stir fry recipe at your home.
Stir-Fry Cooking Equipments
The perfect stir-fry recipe is cooked in a wok which is a bowl-shaped pan. However, in case you don't have a wok and you want to try this recipe at home then you can use a shallow pan with a handle. Also, you will require a heat resistant spatula or a large size spoon for stirring purposes.
Choose Cooking Oil with a High Smoke Point
For cooking the stir fry recipe you should choose an oil with a high smoke point. This is because stir-frying is done at high temperature so when you use oil with a high smoke point it will not develop an unpleasant flavor or emit smoke.
Some common cooking oils which are ideal for this form of the cooking technique include soybean, corn, safflower, peanut, sunflower, and canola oil. Don't use hemp or flax oil as they have a less smoke point. If you are choosing olive oil then choose only refined olive oil, not the extra virgin olive oil.
Cook Meat on Right Temperature to Add Protein
For adding protein in your recipe add your meat in a wok once the oil is hot. Cut the meat into thin strips shape so that it would cook faster and evenly.
You can use meat pieces of salmon, lean pork, chicken breast or thigh, lean beef, shrimp, tofu, etc. Remove the meat from heat instantly once it is cooked to prevent overcooking risk which will harness the protein level of your ultimate prepared recipe.
Cook the Vegetables
Once the meat pieces are cooked properly, it's time for cooking all the cut vegetables. Add garlic first on your hot wok. Once it sizzles add other vegetables and cook until it is tender-crisp such as cauliflower, carrots, baby corn, mushrooms, broccoli, bell peppers, celery, eggplant, Bok choy or any other favorite vegetable of your choice.
Mix Flavor
Favoring is a crucial step in the stir fry recipe cooking process. You can add salty sauce for stir fry sauces but in a very limited quantity as most of these sauces are rich in sodium content.
So make sure that your daily recommended doses of sodium will not exceed at any cost. For adding flavor you can use herbs like- oregano, basil, cilantro, Spices like- cardamom, coriander, cumin, Citrus zest, 100% fruit juice, lower-sodium soy sauces (<600 mg sodium per tbsp)
You can easily make a Chinese chicken stir fry recipe by following our above-mentioned step or recipe guide. So what are you waiting for? Try this handy dinner meal and enjoy its delicious taste with your family and friends.