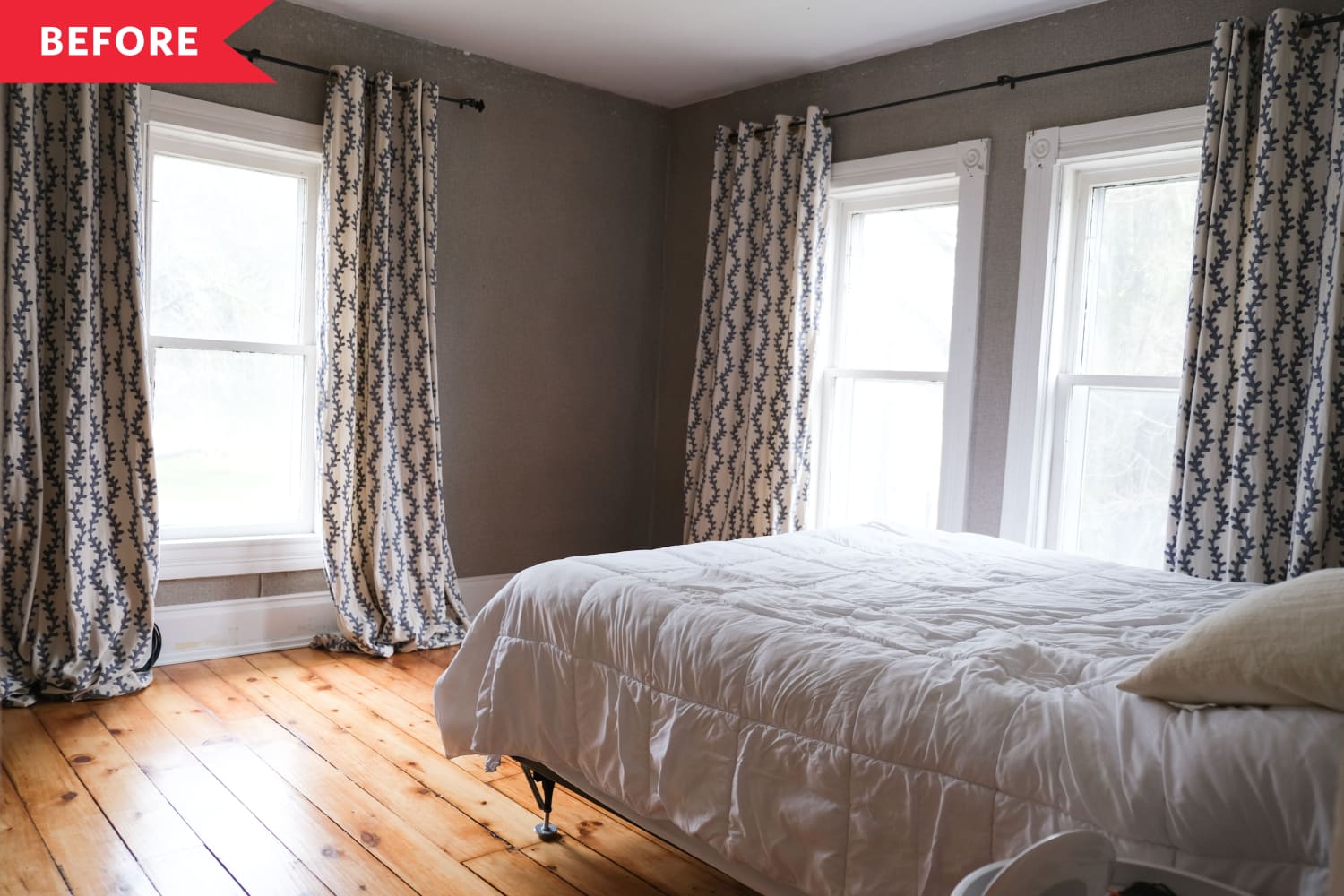 This year has brought plenty of challenges—but some of those have inspired some true creativity when it comes to decorating on a budget. Emily Hall, of Threads & Blooms, is very familiar. Back in April, when most everyone was confined to their homes, Emily was itching for a new project. Thankfully, her 1908 home had plenty of them. "It's a beautiful home with lots of character but just about everything needs to be updated and fixed up over time, while maintaining all the character and historical features, of course!" Emily says.
The upstairs, where this bedroom is, had tile all throughout when she bought the house. Before moving in, she ripped it up the tile floors and had the beautiful old wood beneath refinished—but that was the only TLC the bedroom had received. It sat for a while with peeling wallpaper, too-long drapes, and a dated overhead light fixture before Emily decided it was next on the project list. "The room has beautiful windows which provide tons of light so even with lacking decor it still had a nice feel to it but there was so much room for improvement," Emily says. "On a daily basis it felt fine to use, but as someone who is so impacted and inspired by my surroundings, the space was far from inspiring!"
Because of stay-at-home orders, Emily wanted to give the room a refresh without buying anything new. So she raided what she already had, using leftovers from old projects, or pieces she'd bought for other areas of the house that could be re-purposed.
Emily started by removing the peeling wallpaper. This went way quicker than she expected, taking only about an hour. "It must have been the paste they used in this room," Emily says. "For reference, removing wallpaper in the room below that is the same size took me a full week!" Next, she repaired the plaster cracks on the wall and painted the walls with leftover white paint.
Emily next replaced the flush-mount light fixture with a globe pendant she'd bought prior to moving in. For the decor, she swapped in pieces from other rooms until she was happy, including a rug, side table, and the bed frame from the guest bedroom.
Final touches: a couple floral decals from Urban Walls and a slight alteration to the curtains to shorten them to the perfect length for the windows. "The room itself is just so bright and cheery. I love opening the drapes every morning because the light in there is beautiful at all times of day," Emily says. "I think the decals are my favorite decor addition I made to the space though! I had purchased them for another project but ended up changing my mind on that space. I'm so happy I got to use them here!"
Emily was able to do her whole refresh in the span of a week, with no new purchases. "I love that I was able to do this project at a time when it felt like I didn't have as many opportunities to be creative," she says. "Even if I do decide to do a more formal makeover in this room in the future, this makeover made this a much more enjoyable space to be in for the meantime."
Inspired? Submit your own project here.