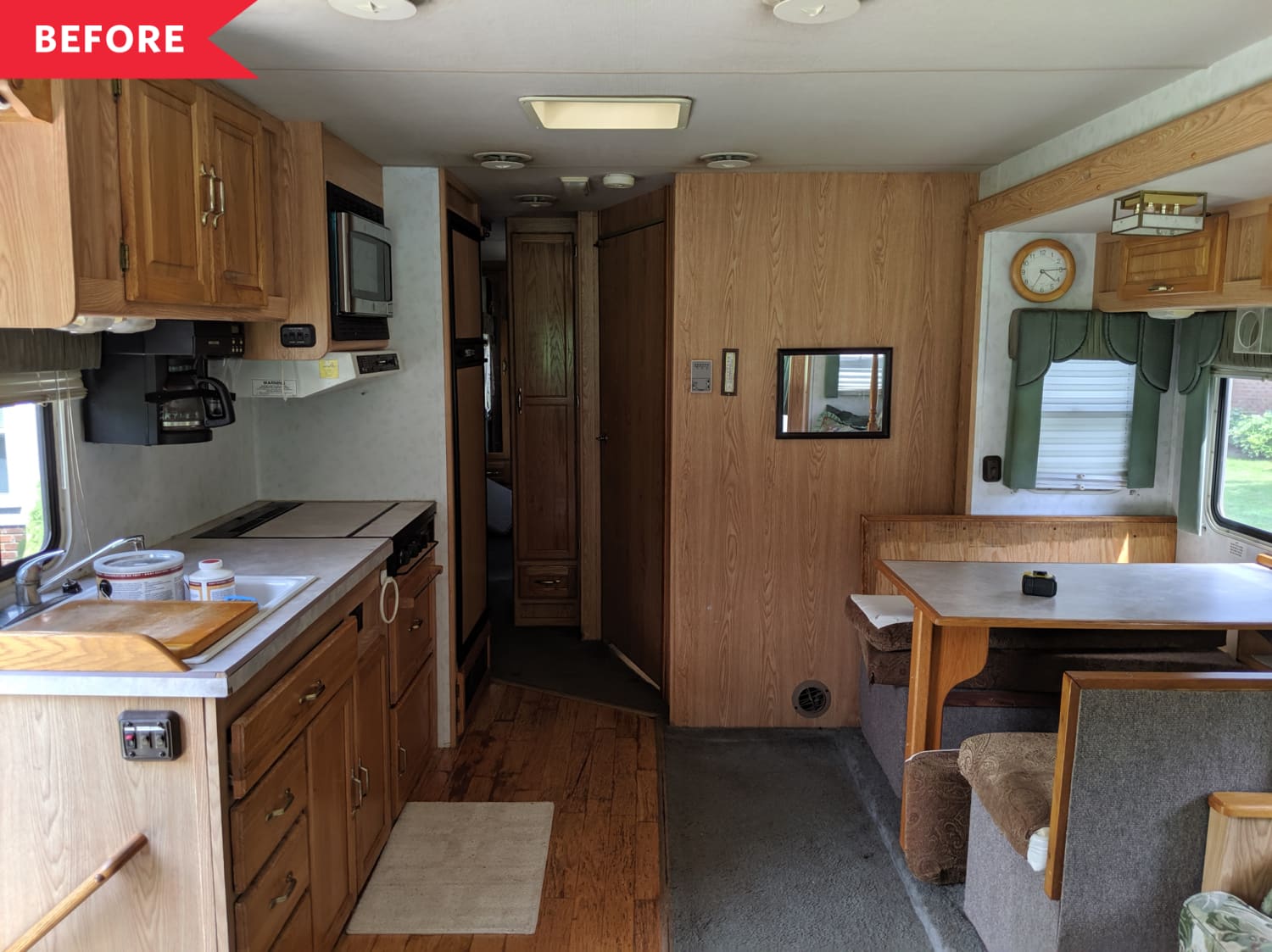 We independently select these products—if you buy from one of our links, we may earn a commission.
Name: Sarah Lemp (mom); Jason (dad), and kids Natalie, Carissa, Taylor, Olivia, and Asher, along with Edison (our dog)
Location: Detroit, Michigan
Size: 250 square feet
Years lived in: 1 year, owned
Our living situation is kind of unique. Our house is owned by the church that my husband works at as a pastor. It is historically referred to as the "parsonage. " Given we don't own our home, an RV has given us a sense of freedom. It's nice to have a small place we can go, to get away or vacation in that actually belongs to us. We also have complete creative control over decorating, unlike our home, which is similar to a rental situation.
We love having a space that feels so much like home, yet it can go anywhere at a moment's notice. We keep our RV ready and escape with it whenever we can, sometimes for a couple days, sometimes longer. We also love going places locally for longer periods of time, where we can still commute to work, school, etc.
Though we would love to one day be full-time RVers, our current situation doesn't allow for that. Although the full-time gig has become more and more popular, there are many people that just wouldn't be able to pull it off. For us, having an RV as a second home or vacation spot is perfect for our family!
Apartment Therapy Survey:
My Style: My style is budget-friendly, clean, and cozy, and a mix of modern farmhouse and boho
Inspiration: I am a part of several RV renovation Facebook groups and run one of my own. I get so much inspiration from other renovators on Facebook and Instagram. I love seeing unique ways people utilize the space. I also look to home trends on Pinterest and Joanna Gaines, of course!
Favorite Element: The farmhouse sink! I have always wanted one and finally made it happen in this RV.
Biggest Challenge: We have fixed up quite a few RVs to resell and to use for ourselves. As our family has grown, we have outgrown several RVs and had to hunt for something bigger. Space is always a challenge and finding sleeping areas for five kids is the hardest part! In this RV, we didn't want to sacrifice living space by putting in bunks. Instead, we removed the original slide layout and put in two sectional pieces that created one long couch that fits tons of kids! Each sofa has a pull-out bed that sleeps two kids. For our toddler, Asher, we removed the doors on a closet and created a bed inside!
Proudest DIY: I am definitely most proud of the kitchen area. I loved how the teal color came out on the cabinets next to the gold hardware. This was my first time installing new countertops and a new sink.
Biggest Indulgence: The kitchen was my biggest indulgence because I replaced the counters, sink, faucet, and hardware. I'm normally very budget conscious and will reuse or upcycle everything I can. Switching all these things out in the kitchen was a huge step for me. I don't regret any of it though; having a large sink is so worth it!
Best Advice: If you're interested in fixing up an old RV, start looking on Instagram for inspiration or join a Facebook RV renovating group. Search Facebook Marketplace for RV listings and be prepared because they go fast! We have found all of our RVs on Facebook Marketplace and then resold them back on the platform when we needed an upgrade. Be aware that almost all RVs have leaked or will leak at some point. Do your research and search high and low for water damage. A leak doesn't necessarily mean a no-go as it isn't always bad if it has been caught early enough and you can see where things have been patched and sealed up well.
Know your skills and your limits. How big of a project are you okay with taking on? When switching things out like furniture, always keep weight in mind and keep things evenly distributed. You will also have to consider the changes in temperature and how that may affect some products you use, like stick-on wallpaper or flooring.
What's your best home secret? Given I am budget conscious, I try to be intentional about the things I buy for my home. I search for particular items on Facebook Marketplace first then online retail. I find online shopping actually saves me money because I can search specifically for the one thing I need without getting side tracked by things I don't.