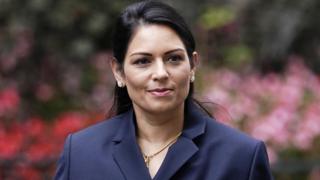 Families stopping to talk in the street would be in breach of the 'rule of six' restrictions, the home secretary has said.
Priti Patel told the BBC that two families of four stopping for a chat on the way to the park was "absolutely mingling".
She said she would report her neighbours if they broke the rules.
The rules restrict indoor and outdoor gatherings in England and Scotland, and indoor groups in Wales.
The new measures. mean police can break up groups larger than six, with fines of £3,200 if people break the rules