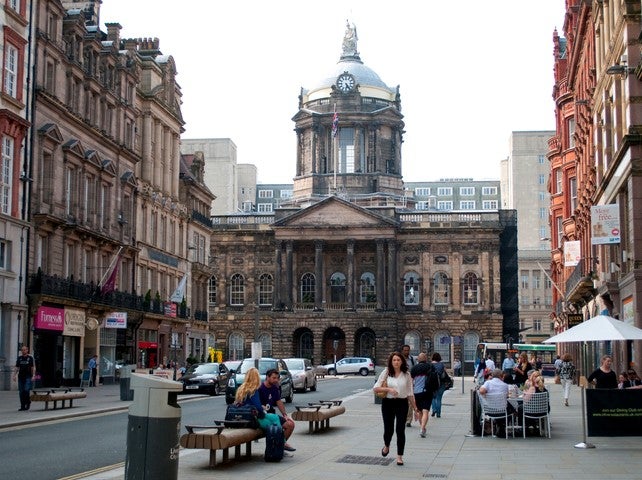 Parents and guardians in one of the UK's biggest cities have been told to wear face coverings at the school gates while dropping off and picking up children.
The new guidance has been introduced across Liverpool after it was placed on the government's coronavirus watchlist following a surge in cases there.
Matt Ashton, director of public health in the city, told headteachers the drastic new measure – understood to be the first of its kind in England – was needed because "rates are high and increasing every day".
In a message to school leaders, he told them: "We need to take urgent action."
He said: "It is now essential that parents and carers in Liverpool wear face coverings when collecting and dropping off their children at school.
"All school staff should role model best practice by also wearing a face covering if supervising during collection or drop off."
The message – published by the Liverpool Echo on Tuesday – comes just a day after the mayor Joe Anderson warned of a potential local lockdown if spiralling infection rates were not brought under control.
His intervention was sparked after more than 100 new cases were identified in a single day over the weekend.
It means there are now 80 people per 100,000 people testing positive for Covid-19 in Liverpool. The R rate is approaching 1.3 per cent, essentially meaning that the virus – which has already killed 600 people in the city – is growing.
In a public statement on Monday, Mr Ashton said that, crucially, hospitalisations were now back on the rise.
He said: "Merseyside is now an area of concern and there is a chance of more intervention if the tide of cases does not slow.
"Let us remember that already, more than 600 people in Liverpool have died from COVID-19. 'A-ha,', say the doubters, 'but many of them had underlying health conditions'.
"Indeed they did – but try telling that to their grieving families who know that, if they hadn't contracted it, they would still be alive.
"We saw how rapidly cases escalated during the first wave and we simply have to do all within our power to stop that happening again."
Although individual schools across England – including in Bristol and Coventry – have asked parents to wear masks when picking up children, the city-wide instruction is thought to be the first of its kind in England.