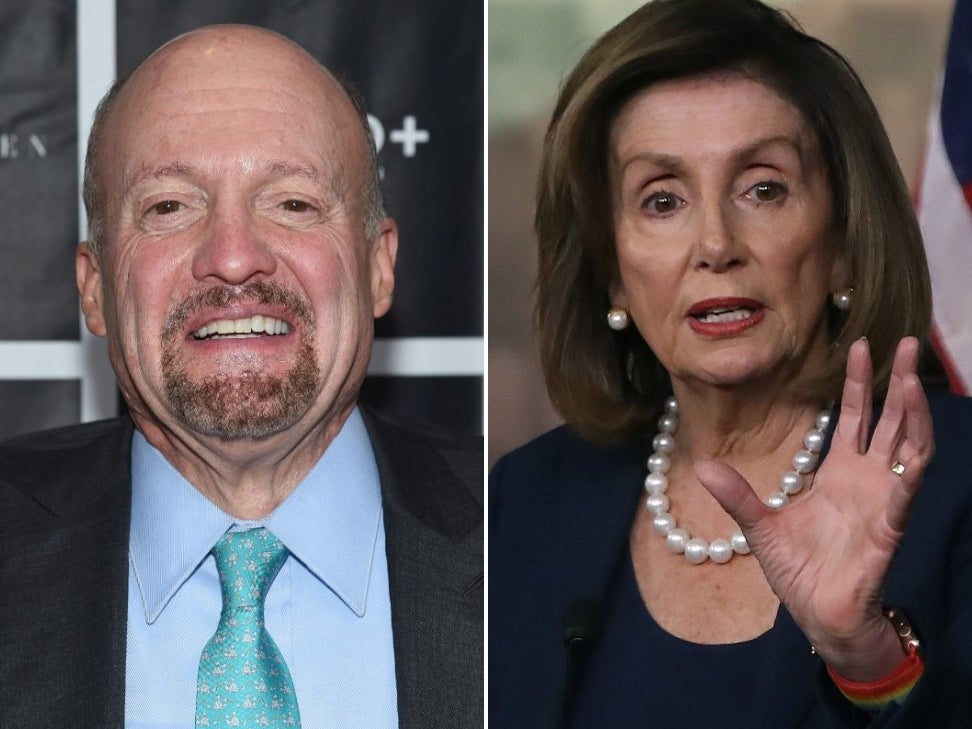 CNBC host Jim Cramer called Nancy Pelosi "Crazy Nancy," while interviewing her on Tuesday, echoing president Donald Trump, who has repeatedly mocked the house speaker using that name.
Cramer made the remark during an interview with the house speaker on Tuesday morning, while he questioned her about the likelihood of a new coronavirus relief package being approved soon.
"What deal can we have, Crazy Nancy?" the host said, before he immediately told Ms Pelosi: "I'm sorry, that was the president. I have such reverence for the office, I would never use that term."
The house speaker briefly laughed and told Cramer: "But you just did, but you just did," before she then agreed that she knew what the host meant with the remark.
Ms Pelosi added: "Let me just say this, anything the president says is a projection of his own insecurities. He calls other people crazy because he knows he is.
"So anytime he says something you say, 'Uh-oh, that's what he's thinking of himself.'"
Cramer attempted to explain his comments again later on in the interview with Ms Pelosi, and said: "You know, I was being facetious when I used the term involving you.
"I respect you. Anyone who gives their life to public service and is speaker of the House should not be called that name," and added: "I don't even want to use it again."
Ms Pelosi again attempted to move on from the remarks, and said: "Don't worry about that," and added: "Let that be your biggest problem today."
President Trump has repeatedly attempted to mock the house speaker on Twitter by referring to her as "Crazy Nancy," and the nickname has been copied by some of his followers.
The host was criticised on social media for using the name, and former Democratic presidential candidate Howard Dean wrote on Twitter: "This is the end of Jim Cramer as a serious finance commentator. He might as well hang it up and go to work for Fox."
Tony Schwartz, who ghost wrote Mr Trump's book The Art of the Deal, but has been critical of his time in office, tweeted in reference to the president's insult: "Trump has decimated civility and dragged all of us down with him.
"Example: CNBC's awful Jim Cramer calls Speaker Pelosi 'Crazy Nancy' to her face, as if that's OK to say to the Speaker of the House."
After the backlash, Cramer tweeted about the exchange, and again attempted to explain why he used the term in the interview.
"It disgusts me that she is called 'Crazy Nancy.' She has spent her whole life in public services. My critics didn't listen to why I mentioned it-because it is horrifying."
In the interview on Tuesday morning, Ms Pelosi said that she will not call the president in an attempt to get the new coronavirus relief package through Congress, with negotiations between house Republicans and Democrats currently in a deadlock.
The pair have not spoken for 11 months, since Ms Pelosi left a meeting with Mr Trump in the Oval Office, when he called her a "third grade politician," according to CNN.
"What is the point?" Ms Pelosi said. "The president has sent his representatives and if he has confidence in them, than I do too."
Ms Pelosi added: "If you're talking to him you're almost wasting your time."