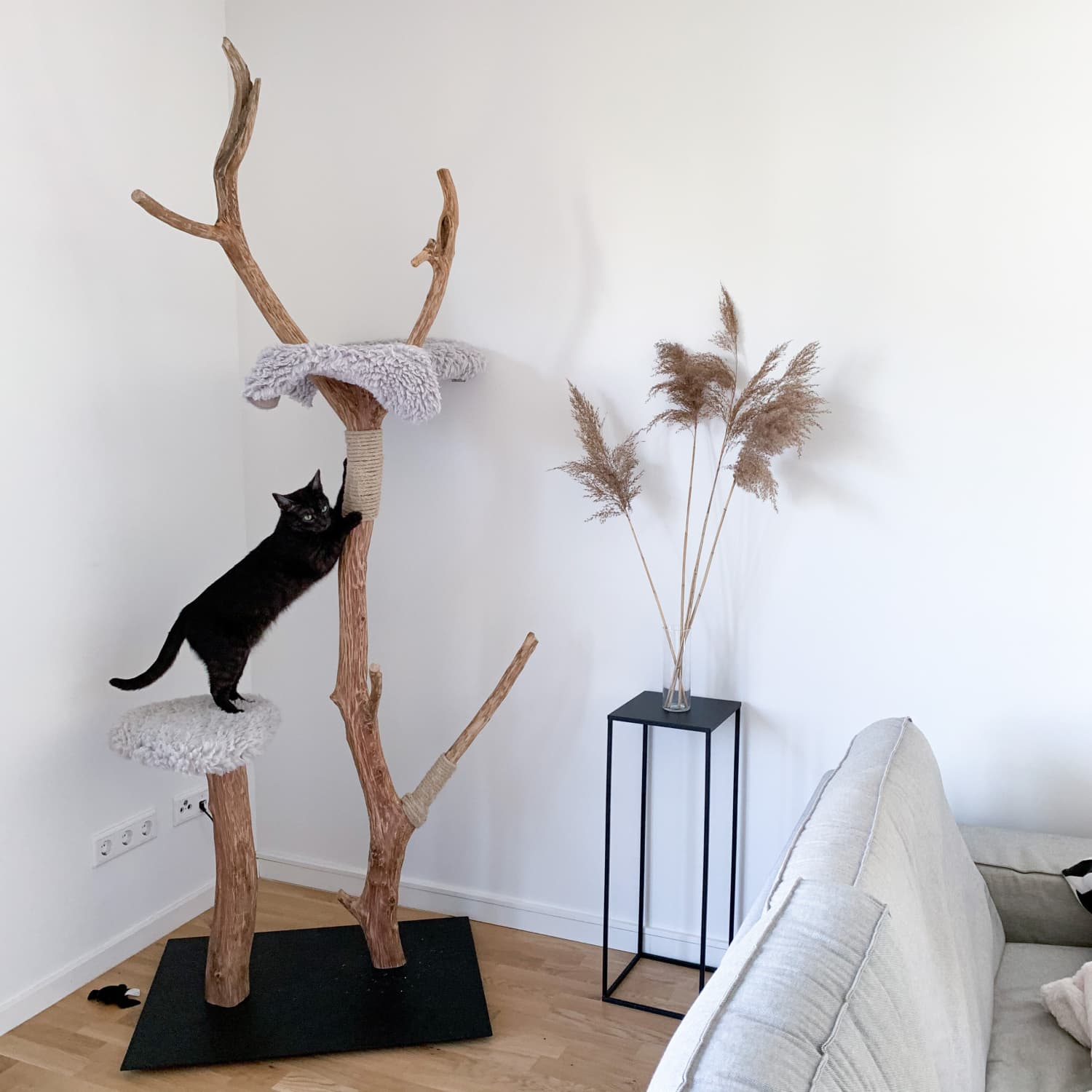 Pet owners know that love has no bounds, especially when it comes to creating spaces to play. While dogs may get to claim the yard, cats reign over the interior: couches, shelves, counters, and cabinets are their domain. So why not give them something fresh to conquer? A DIY cat tree will provide your pet with a space that's all their own, perfect for exercising or relaxing away from the rest of the family.
The good news is that there are plenty of pieces of DIY cat furniture that are stylish enough to fit in with the rest of your home's decor. To inspire you, here are 10 DIY cat projects you can make for your furry feline friend.
This simple, chic DIY from Amina & Julian proves that cat trees don't have to take up a ton of space.
"We love the combination of minimalism and wood," says Julian. They also love nature and making things, so this DIY was a no-brainer.
In addition to different levels of shelves to sit on, this cat tree also offers a few scratching spots that are wrapped in natural rope.
2. Cat tree fit for a whole family
Dianne Sands says she and her husband made this tree as a way to save money, since they have five cats that were sure to destroy an expensive store-bought tree.
"We found the log when we were out camping and it sparked the idea," she says. "My cats absolutely love it too, and love sitting on the highest post to watch over 'their domain'."
Sands says she's also upcycled tree branches to store jewelry, make plant hangers, and even create a bathroom shelf.
3. Cat tree made from found branches
When Marcel Rink found this branch in his father's garden, he knew it would make a perfect cat tree for his bengal. He says this DIY took about 15 to 20 hours to complete, and cost around 150 Euro (with the sisal rope being the most expensive part), but his cat adores it, making it worth the effort.
4. A cat-io (or cat patio)
If you don't want to bring the outside in with a cat tree, why not let your cat safely enjoy the outside by DIY-ing a built-in catio?
Cynthia Chomos says when building your catio, you should keep in mind your cat's access points, overall size and foundation, sun exposure, and make sure there is enough visual stimulation for your cat on the catio.
Sophie made this DIY cat tree out of things she had at home, which just so happened to be PVC pipe.
"I also thought cat trees rarely look like trees, so I wanted to make one that would be fun for my cat, but also aesthetically pleasing and not just a hunk of beige carpet in the middle of my house," she says. Wrapping the pipes in rope and adding faux leaves gives it a more natural look.
Sophie says her cat was a little hesitant at first, so she added the DIY cat toys to the lowest branch to warm her up to it. Now she says she loves laying in the baskets and looking down at her dogs.
Lea and her boyfriend built this cat tree (or rather, cat recreation center) over the course of a few weeks while in college. It includes ledges, scratch pads, a drawbridge, beds, and string toys. She says they're still adding on to it, but so far the cats are satisfied.
For this DIY, Elisa says they used parts from another cat tree they already owned, tree trunks, and a planter to make this cat tree. They filled the planter with cement, placed in the tree trunks, and then added the repurposed cat tree parts and fixed them to the wall for security.
Jessica of New Adventures in Life says this tree only took about six hours to build, but the size of the ledges proved to be a challenge.
"Our cats weren't happy with the original ledges (of course). They wanted the ledges to be larger than what we originally created," she says. "I think having the ledges attached to the wall helps, too, since there's no gap to scare them."
Chic side table? Plant shelf? Secret cat cave? All three? Brittany Goldwyn made this multi-purpose stylish cat house, and she shows you how you can DIY it, too.
She chose to use PureBond Plywood in birch, which really ups the style factor as opposed to regular plywood (it's also formaldehyde-free).
10. Ribbon dancer cat gym
This simple DIY cat gym will keep your feline entertained once it's done scouring the cat tree in your home. Charleston Crafted shows you how to make your own. Adjusting the length and texture of the ribbons will keep your cat's attention and make play even more fun for them.