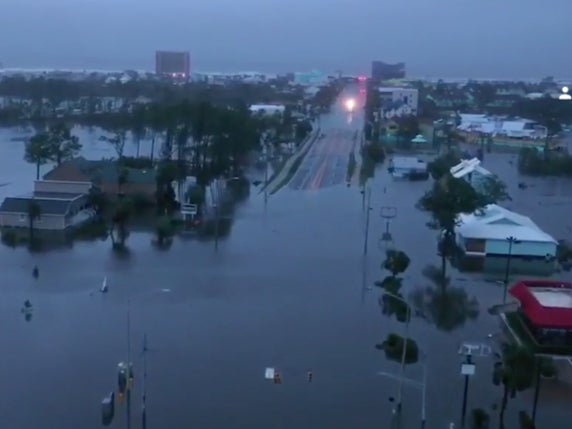 Drone footage of the aftermath of Hurricane Sally shows the extent of the flooding and damage caused by the category 2 storm system.
Sally made landfall in Gulf Shores, Alabama, between 4am and 8am on Wednesday, with sustained wind speeds of 100mph.
The footage shows debris in flooded streets, collapsed walls, and damaged roofs.
One 10-storey apartment building has lost much of one wall, exposing at least five units to the ferocity of the storm. Rubble is strewn below.
More than half a million customers are without power across Alabama and western Florida.
The flooding is described as catastrophic, as the slow moving system travels inland to the northeast at just 5mph, continuing to dump rain.
Sally has been likened to Hurricane Harvey which swamped Houston, Texas in 2017.
[embedded content]
Further east from Gulf Shores, a five foot storm surge was recorded in Pensacola, Florida, flooding much of downtown.
Those who did not evacuate have been warned to shelter in place until floodwaters recede due to the danger of downed power lines and displaced wildlife such as alligators, vermin and fire ants.