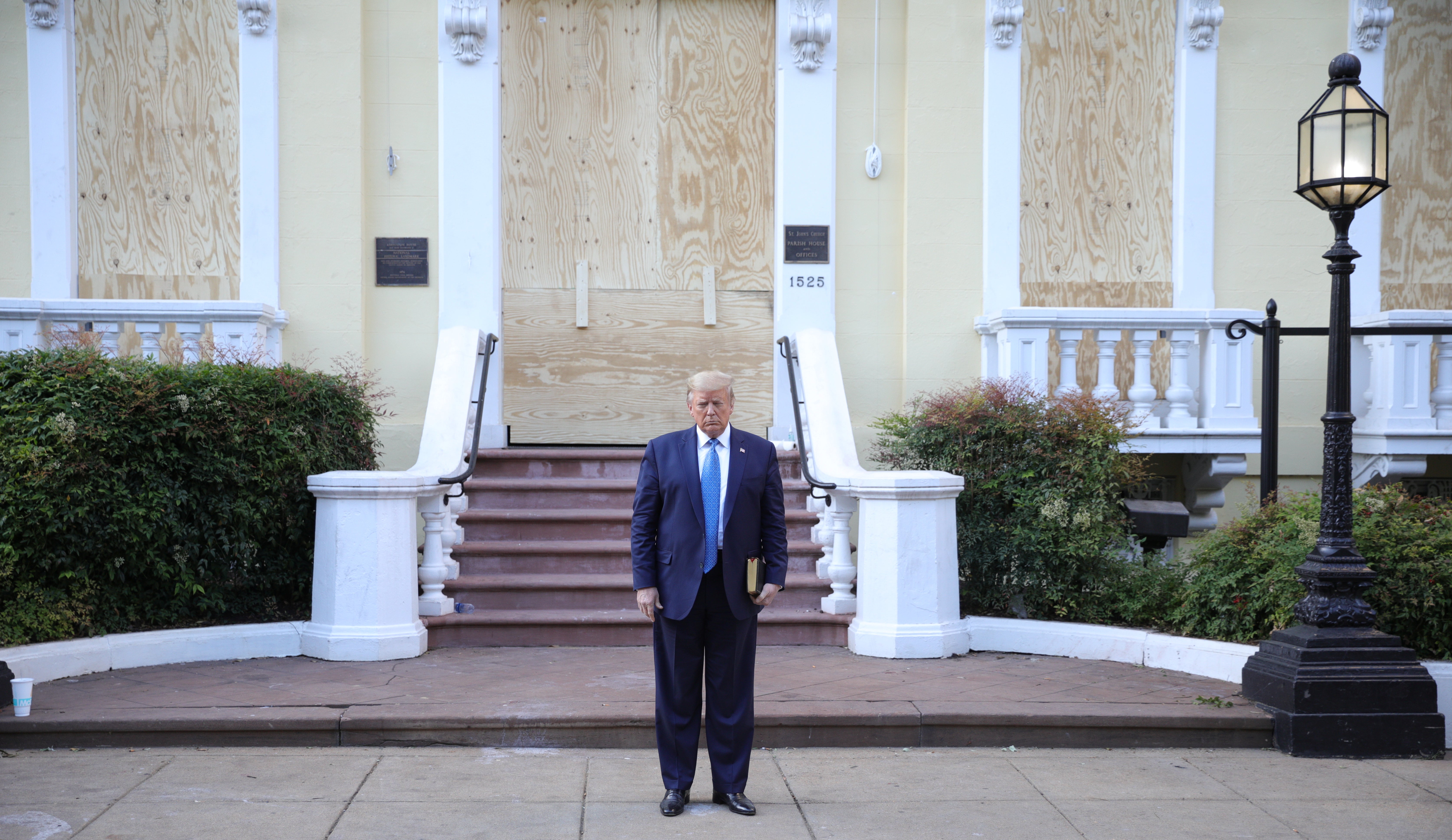 It has emerged that in the hours before Donald Trump's photoshoot outside a church near the White House this summer, military police sought out controversial crowd control weapons – and even began stockpiling ammunition.
Protesters were cleared by force from in front of the White House using tear gas and non-lethal projectiles, clearing the way for Mr Trump to walk across Lafayette Square and pose in front of St John's Church holding a bible.
However, according to testimony from a whistleblower, federal defence officials reached out to the DC National Guard seeking an Active Denial System (ADS), a controversial microwave-based device that heats the skin of targets to an intolerable level with the aim of clearing them from a given area.
The email also mentioned a Long Range Acoustic Device (LRAD), which can be used for announcements or as a sonic weapon. Neither device was ultimately used to clear the area outside the White House; instead, protesters were dispersed with tear gas and non-lethal projectiles.
The whistleblower, Major Adam DeMarco, told a House of Representatives committee that he was copied into an email describing the use of the different weapons. "The ADS," it said, "can immediately compel an individual to cease threatening behavior or depart through application of a directed energy beam that provides a sensation of intense heat on the surface of the skin."
Major DeMarco also said that during the protests, M4 carbine assault rifles and thousands of rounds of ammunition were transferred to the DC Armory.
He gave his account in a written response to questions from the Democratic-led House Committee on Natural Resources, which has been investigating the incident in Lafayette Square since June. In his answers, obtained by NPR, he describes hearing from another national guardsman that the guns were transferred to the DC Armory around six hours before Mr Trump's photoshoot at the order of the commander of a DC National Guard unit.
He then describes three occasions on which he heard from the national guard's operations officers that some 7,000 rounds of ammunition had been sent their way, including from Missouri and Tennessee.
The committee's official Twitter feed thanked NPR for running the story. "Many reporters like @radleybalko have done great work uncovering elements of this story," it wrote. "The more we look at what the administration did at #LafayetteSquare to unarmed American citizens – and what it wanted to do – the clearer it is that they think of us as enemy combatants."