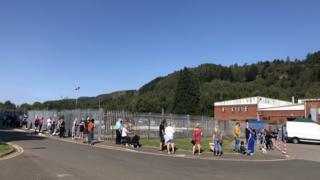 The UK health secretary should explain why people from England are being directed to a testing centre intended for people in locked-down Rhondda Cynon Taf (RCT), an MP has said.
Cynon Valley Labour MP Beth Winter has written to Matt Hancock demanding to know why people from across the UK were being directed to a site in Abercynon.
First Minister Mark Drakeford said it "simply did not make sense".
The UK government said it was "working around the clock" to increase capacity.
Rhondda Cynon Taf became the second area in Wales to go into lockdown, after Caerphilly, following a rise in the rate of infection.
On Thursday, latest figures from Public Health Wales showed the area had overtaken Caerphilly with 83.7 cases per 100,000 people.
Despite this, people from as far away as Weston-super-Mare, Bath and Bristol were given appointments at Abercynon.
Speaking to S4C's Newyddion 9 news programme, Janet Church, a receptionist at a GP's surgery in Bath, said she was not informed the testing centre was in an area that had been locked down.
"There was nothing whatsoever to say the county was under lockdown," she said.
"Now you're telling me, I think it's disgusting. To come all this way and to be told this place is on lockdown. We didn't know.
"But my daughter's got symptoms so we're going to have to risk it. There was nothing nearer available."
Mother-of-two Marina Symonds, a school teacher who travelled from Bristol, was told she had to get tested after her son was sent from school having developed a cough.
She said: "I was not aware the county was in lockdown. I feel a little bit anxious that I'm bringing my children to an area that possibly could be a higher risk for them than it is at home."
Ms Winter acknowledged there was increased demand on testing sites across the UK, but blamed it on "persistent and serious operational failures" in the large private sector Lighthouse Laboratories.
She said a second testing centre at Abercynon Sports Centre "was intended to be for residents of RCT only".
"Rhondda Cynon Taf residents are being asked to make sacrifices and comply with new local restrictions to combat the transmission of the virus," she said.
"These restrictions are being actively undermined by a poorly designed system which is creating unnecessary travel in and out of the [county].
"In my view, testing centres in areas subject to local restrictions should be reserved exclusively to local residents in those areas."
A spokesperson for the UK government's Department of Health and Social Care said an "unprecedented" 200,000 tests were provided in the last week, with the "vast majority" of those within six miles of people's home.
A spokesperson said only people with symptoms should request a test.
"We're doing everything possible to overcome this challenge – including by bringing in new labs that can process tens of thousands of tests a day, opening new test sites, and trialling new rapid tests that will give results on the spot," a spokesperson added.