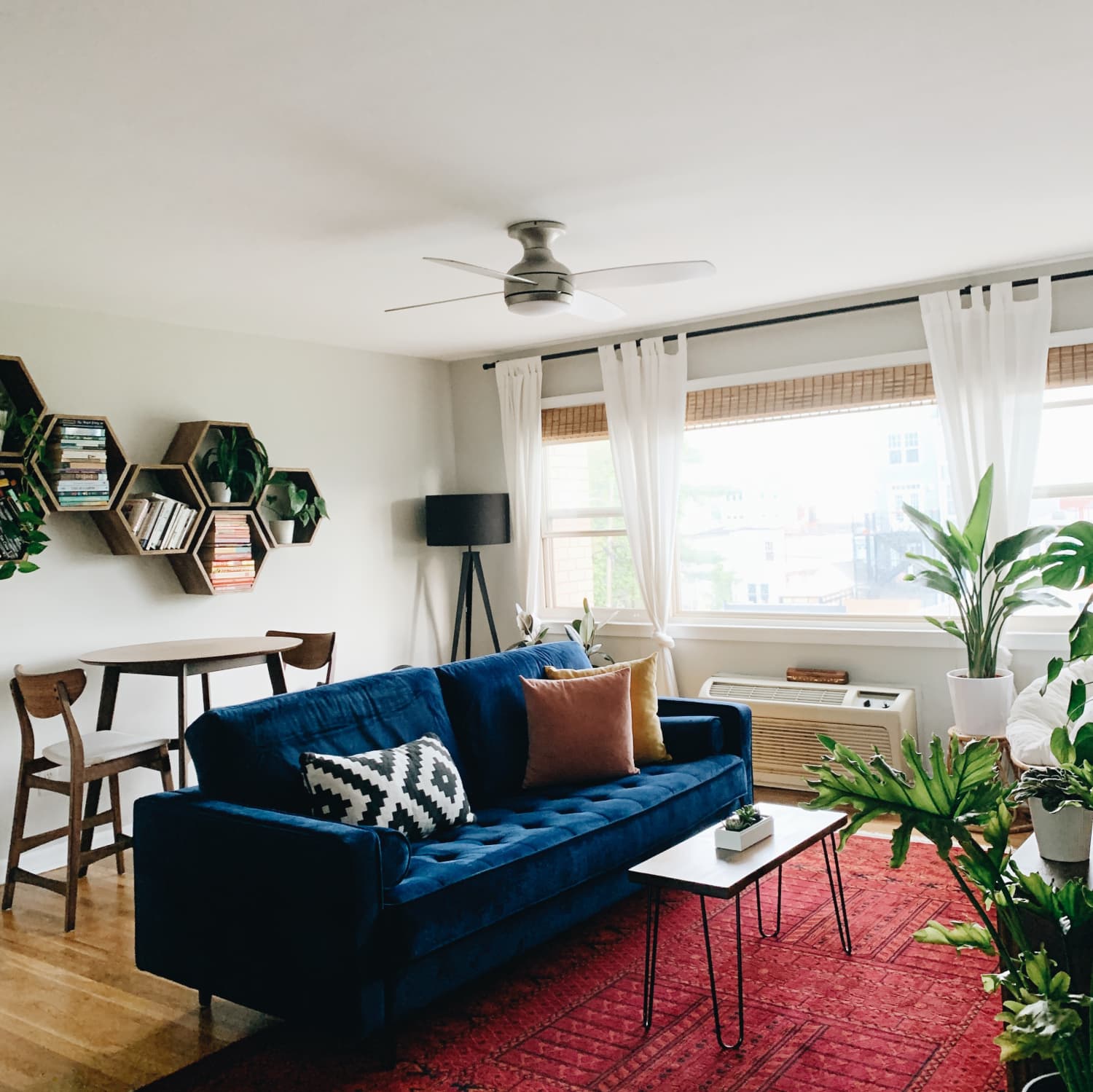 We independently select these products—if you buy from one of our links, we may earn a commission.
Name: Sarai Reed and partner April Lawrence
Location: Washington, DC
Type of home: Condo
Size: 513 square feet
Years lived in: 2.5 years, owned
Tell us a little (or a lot) about your home and the people who live there: Our 513-square-foot condo in Washington, DC feels like all the home we'll ever need. Plenty of mirrors, plain sight storage, and natural light make it work for us and our forty-six plants. Home is wherever you are and whatever you make it. It's making space, however small, and filling it with love.
I bought this place two years ago, but it didn't become home for me until my girlfriend April moved in a year later. Together we've tackled most of the little energy leaks that plague people living in small spaces. Tired of a mountain of shoes by the door, we found a hutch that discreetly holds twenty pairs of sneakers.
Frustrated by our lack of cabinet space in the kitchen, we installed a hanging pot rack to make use of vertical space. Hacking small space living has become our shared hobby. Each square inch of space gained is a win (and a potential home for a new plant).
Describe your home's style in 5 words or less: Mixed mid-century
What is your favorite room and why? We recently painted our bedroom. It was the same gray color as the living room before, which I love, but we wanted it to feel larger and sunnier. We painted the walls a bright white and carefully drew our circular "headboard" by hand in a cheerful yellow. There was geometry involved.
The room was inspired by our favorite thing: breakfast in bed. The painted headboard saves space and represents a sunny egg yolk. We took the doors off the closet to make the room appear larger. The drawback is that we have to keep it really tidy, but actually, that might be a good thing.
Our bedroom is an oasis of calm that honestly makes it hard to get up in the mornings. It's my favorite room in the house by far.
What's the last thing you bought (or found!) for your home? The last thing we bought for our home were these baskets from Target. They allow us to make the most of our small, shared bedroom closet.
Any advice for creating a home you love? Every small room needs a big mirror. The big floor mirror in our living room reflects loads of light from our south-facing windows making the room feel bigger and brighter. We like to think of it as a portal to a bonus living room that you can peer into, but not enter. It's more magical that way.
Empty corners feel luxurious in a small home. They are so deliciously minimal. The idea is, if you have things crammed into every corner, you're not really living small. We have nothing at all underneath our bed. You should try it. The feeling of superiority you get from it is intensely gratifying.
This submission's responses and photos were edited for length/size and clarity.