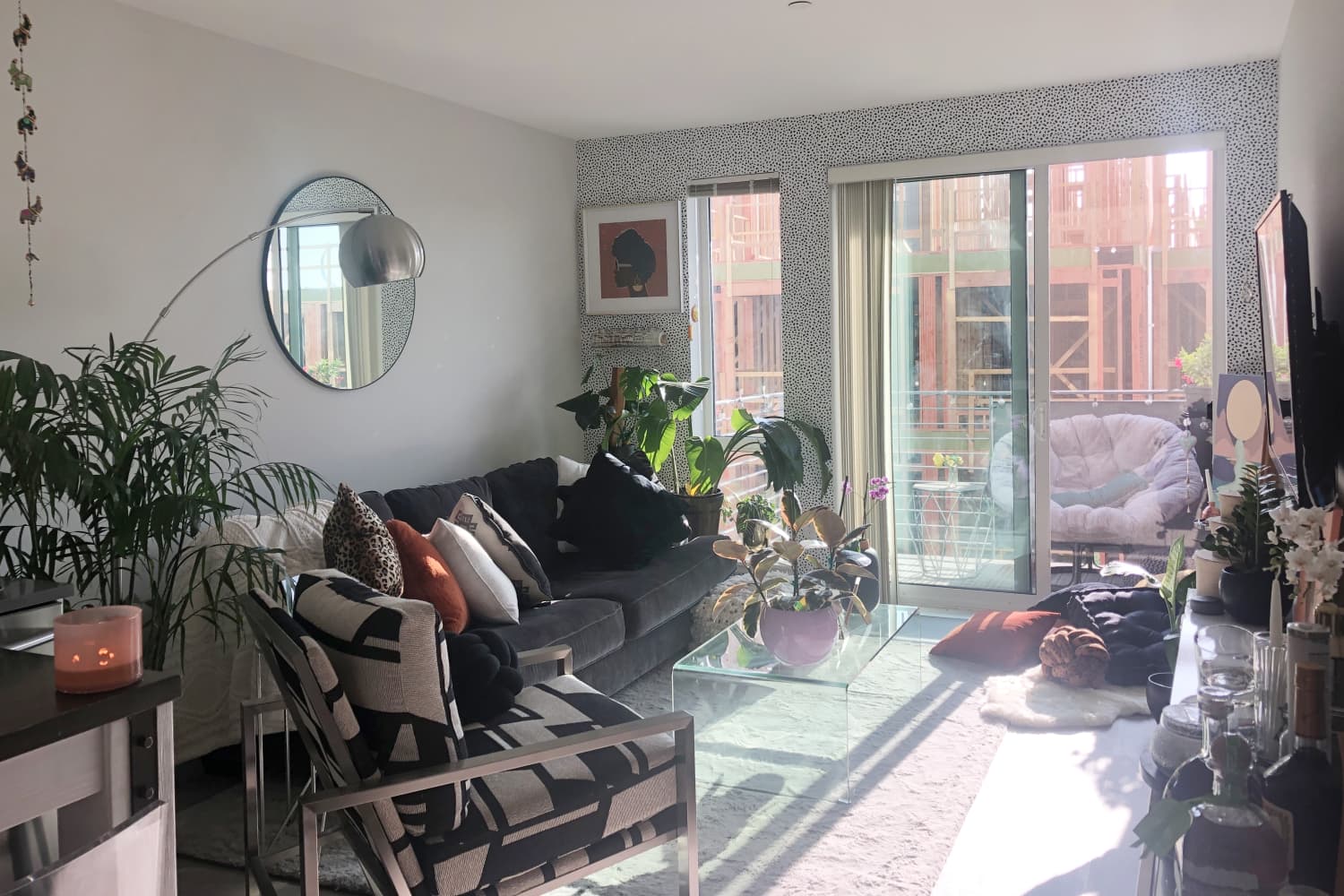 We independently select these products—if you buy from one of our links, we may earn a commission.
Name: Serenity Young and my plant babies
Location: Oakland, California (San Francisco Bay Area)
Type of home: Apartment
Size: 600 square feet
Years lived in: 6 months, renting
Tell us a little (or a lot) about your home and the people who live there: I moved here at the start of the pandemic following some major changes in my life. This is my first time living without a roommate and I really wanted my space to feel like me. Believe or not, my first pieces of decor were my plant babies and everything else came together after that. I've had so much for fun taking my time and truly figuring how to make 600 square feet feel like a realm of tranquility. More than visual aesthetic, I want to feel like I'm in calm, cool, and collected environment everyday.
Describe your home's style in 5 words or less: Feminine, zen, eclectic, modern, and unique to me.
Is your identity reflected in your home? My identity is definitely reflected in my space. As a Black woman, I wanted to make sure my home constantly reminded me that black is beautiful. I have black art and accessories throughout my home and love the beauty that surrounds me in my space.
What is your favorite room and why? My favorite room is my living room because it's where my most of my plants live and it's the room that reminds me so much of myself. I absolutely love my meditation corner. All of the pillows provide such a warm and comfy feel and it's has been the perfect place to relax and ease my mind during stressful times.
What's the last thing you bought (or found!) for your home? The last thing I found for my home was actually something I took (with permission of course) from my mother. She's had this beautiful small sculpture of a woman in her home for the last 15 years that she found at a flea market. I always loved it and I'd been looking for replicas for some time and had no luck. I finally decided to ask my mom if I could have it and she said yes. The piece is so sentimental to me because it not only is a beautiful statement but it constantly reminds me of home and my amazing mom.
Any advice for creating a home you love? When I started decorating, it was in the midst of the pandemic (March 2020) and it was hard for me to shop for things without being out and about. I started ordering online and they wouldn't work out and returning was a hassle. Eventually it taught me to slow down and just go with the flow. The areas of my space that feel the best are the ones that came together naturally over time. I know it's normal to want your place to be done as soon as possible but there is beauty in taking your time and feeling your space out.
This submission's responses and photos were edited for length/size and clarity.