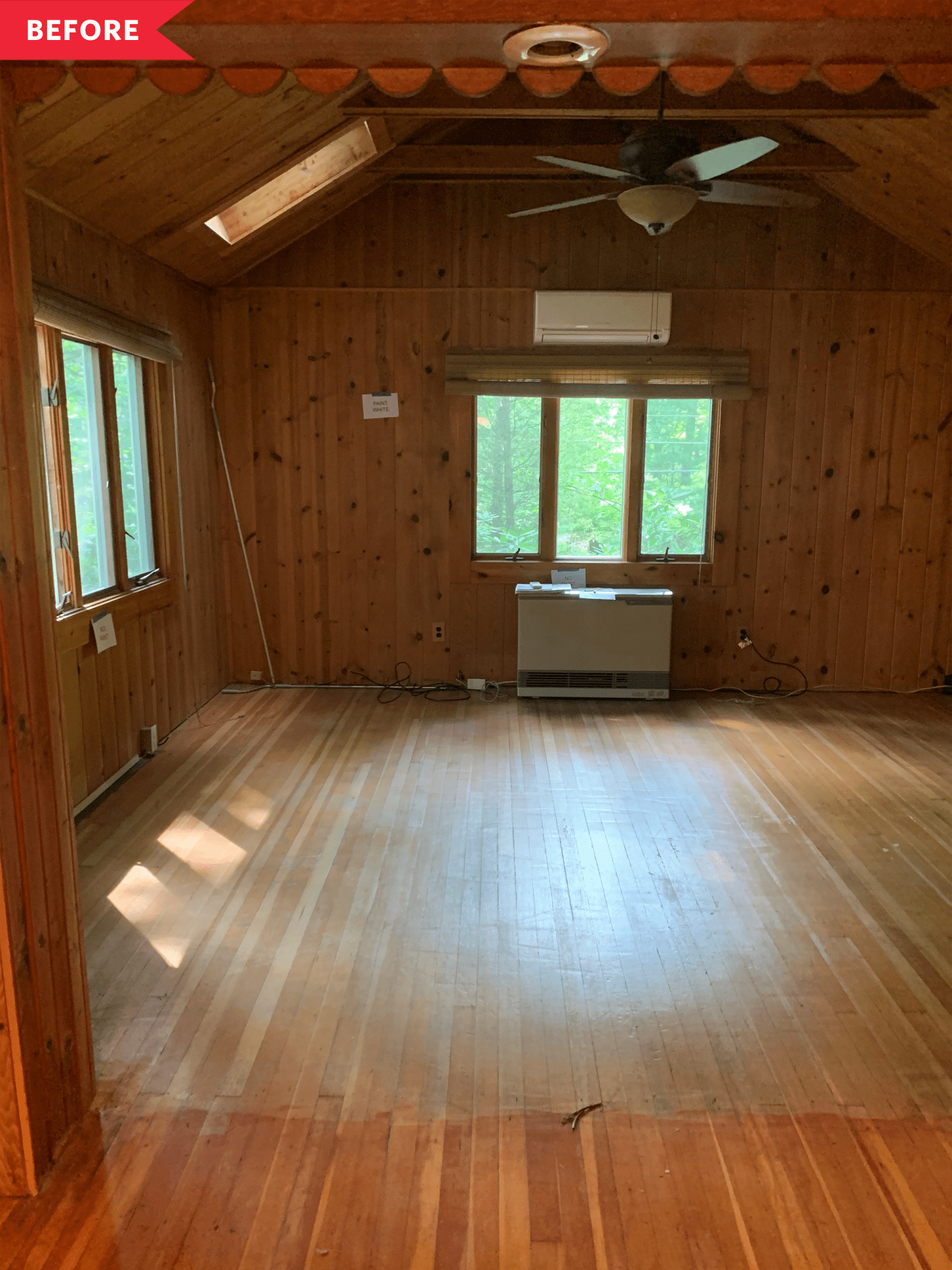 We independently select these products—if you buy from one of our links, we may earn a commission.
Name: Liz Mirisola and my husband, Ted, and our rescue pup, Tubs
Location: Saugerties, New York
Type of home: Cabin
Size: 1,500 square feet
Years lived in: 1 year, owned
Tell us a little (or a lot) about your home and the people who live there: We had been living in New York City for 10-plus years, working the typical high-stress, long-hour grind of jobs in marketing and finance. We were looking for a way to improve our quality of life, while also making a smart real estate investment outside of the city. The Catskills were calling to us—especially for our rescue dog, Tubs. We had actually never visited when I proclaimed "let's buy an A-frame in the Catskills. Let's do it in the next five years." As an interior design lover, I was selfishly also looking for a new project. We started renting Airbnbs around the area, and within a year, we were on our first (and only) set of home viewings.
We bought this little 1950s summer cabin over a year ago now, after a very painful and drawn out purchase process, which almost fell through multiple times. When we first saw her, she was 360-degree wood—floors, walls, ceilings… everything! Every window was blocked by heavy curtains, and the space desperately needed love. But we could immediately tell the bones were solid and fell in love with the pitched ceilings (as close to my beloved A-frame architecture as we could find). One family had owned the cabin since the 1970s. Over 50 years they had winterized the cabin and done a few additions, so walking through the quirky floor plan, you can see how the cabin evolved with the family.
Our reno process began with a coat of white paint and that took us about 95 percent of the way to our goal, although we did need to completely renovate the kitchen and two baths. Our most important goal with our renovation was to respect the house's charm by using materials, colors, and pieces that complement the unique architecture. Our second priority was to create a space that was overwhelmingly comfortable, while still being beautiful. We have sourced numerous pieces from local vintage stores and makers, which really make this house feel like a celebration of the unique craftsmanship and appreciation for history that define the Hudson Valley and Catskills.
I define myself as a design fanatic, a coupon clipper (always seeking a deal), and a lover of all things authentically "beautiful"—interiors, jewelry, flowers, textiles, natural materials, architecture… all of it. This house is a marriage of those ideals—we had a very limited budget, but we refused to bring in pieces that were made of cheap materials or wouldn't stand the test of time. We agonized over finding affordable vintage pieces and works by local artisans. If we went with 'big box' stores, we ensured the designs and materials were sound—solid wood, natural fabrics, and elegant shapes. The reno has been ongoing for nearly 1.5 years, and will probably continue for a while longer, but we think it is worth the wait.
Describe your home's style in 5 words or less: Cozy, warm, design-forward, monochromatic, and earthy.
What is your favorite room and why? My favorite room has to be the sun room. It is one of the few rooms we left unpainted, because the large windows let in so much light. We were challenged with how to furnish the space without blocking the views, which meant finding very low to the ground, slim profile furniture. We wanted the room to be a comfortable lounge space meets tree house (due to the surrounding ancient oak trees), but also needed it to be easily convertible into a third bedroom for guests. We ultimately went with IKEA utaker beds, which transform from a low profile L-shaped daybed into a king size bed as needed. This room is designed to help you relax (and don't we all need this?).
What's the last thing you bought (or found!) for your home? I recently purchased this amazing primitive style wood chair from Zara Home, and it may be one of my favorite pieces in the entire house. It lives in the sun room and does double-duty as seating and artwork. It's fantastic quality and also shockingly comfortable!
Any advice for creating a home you love? Design for the way you live and then consider aesthetics. There is almost always a beautiful way to address a practical challenge. For example, we wanted our home to be guest friendly—a place where friends and family could come to unwind. For this reason, we forewent a coffee table and instead put a GIANT ottoman in our living room, so everyone could put their feet up. The addition of an ottoman tray looks chic and gives us somewhere to place our drinks. We also swapped traditional upper cabinets for open shelving, so no one would need to ask us "where do you keep your water glasses?" In the end, the open shelving is also an aesthetic choice we continue to love.
This submission's responses and photos were edited for length/size and clarity.