Sunak reminds MPs that the government has announced an extra £24bn for defence.
Capital spending next yer will be £100bn, he says.
He says a new infrastructure strategy is being published today.
And a new infrastructure bank will be set up.
Sunak says spending so much on international aid is difficult to justify with borrowing so high.
But at a time of unprecedented crisis, the government must make tough decisions, he says.
He says it will spend 0.5% of national income on aid in 2021 – not 0.7% This will amount to £10bn.
He says it will be the government's intention to return to 0.7%.
Even with this target, the UK will still be the second biggest aid spender in the G7, he says.
The 11.3% slump in UK GDP forecast this year will be even worse than the recession of 1921, when Britain's economy shrank almost 10% in the aftermath of the first world war and the Spanish flu epidemic.
It means 2020 will see the biggest contraction since 1709, when the Great Frost ravaged Europe's economies, creating food shortages as livestock froze.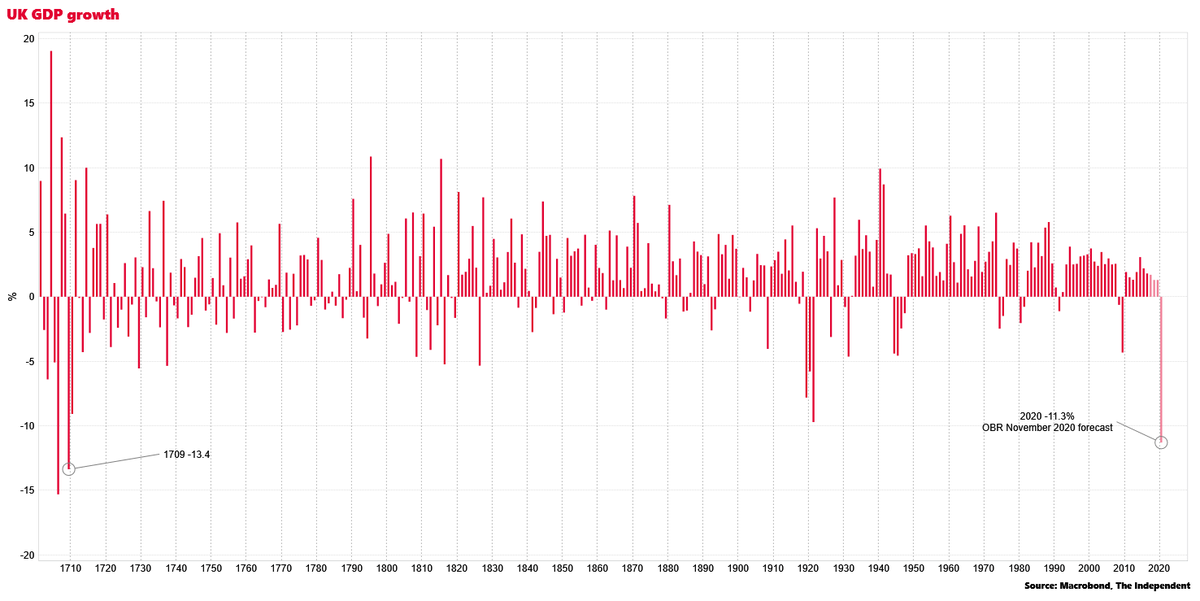 Sunak announces an extra £2.2bn for schools.
And the government will fund more prison places, he says.
Sunak is now addressing departmental spending.
Day to day departmental spending will increase by 3.8%, he says. He says that is the fastest cash rise in cash terms in 15 years.
The core health budget will grow by £6.6bn, he says.
Sunak says the national living wage will rise by 2.2% to £8.91 per hour. Some 2m people will benefit, he says.
Sunak confirms the government will spend £2.9bn on a Restart employment scheme.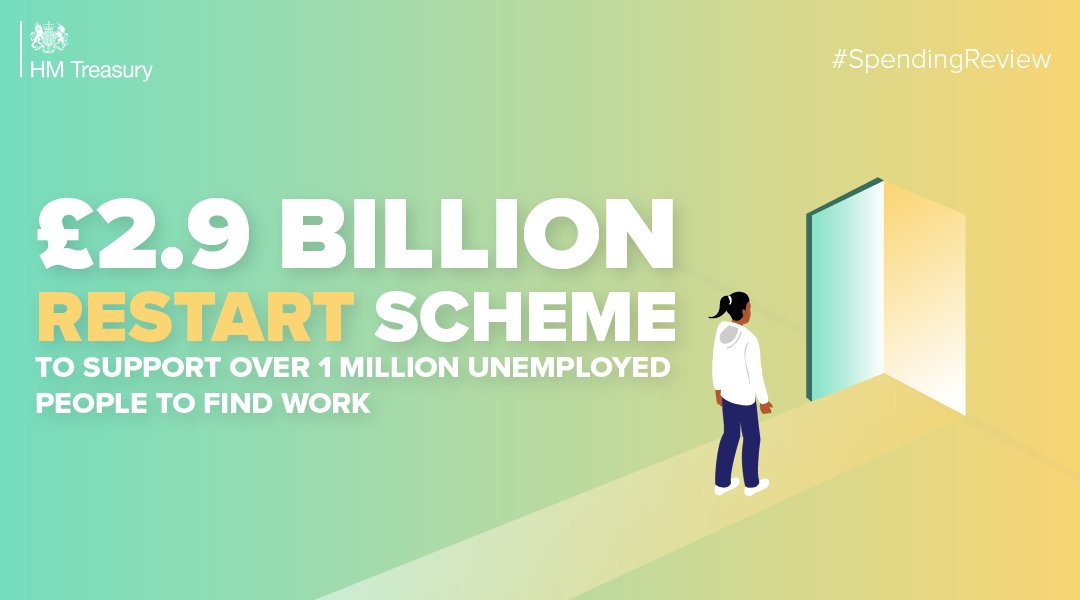 He says the government will provide a pay rise to doctors and nurses in the NHS.
Pay rises in the rest of the public sector will be paused next year.
But people on low pay will get a pay rise. Anyone earning less than the median wage, £24,000, will get a pay rise of £250, he says.
He says this means most public sector workers will get a pay rise.
Sunak says the government is set to borrow £394bn this year – 19% of GDP.
That is the highest level of borrowing in peacetime history, he says.
Borrowing will remain above £100bn a year for the rest of this parliament, he says.
Sunak says the economy will be 11.3% smaller this year.
But it is expected to grow by 5.5% next year, then 6.6%, then 2.3%, then 1.7% and then 1.8%.
But output will not return to pre-crisis levels until the fourth quarter of 2022, he says.
Sunak says he is prioritising jobs, businesses and public services.
The government is providing £280bn to get the country through Covid, he says.
Next year £18bn will be spend on testing, PPE and vaccines, he says.
He says over £2bn is being kept on transport, including rail subsidies.
Over £3bn is going to councils, he says.
Overall the public services will get £55bn, he says.
Rishi Sunak says the spending review delivers on the priorities of the people.
The health emergency is not yet over, he says. And the economic emergency has only just begun.
He says there will be a once-in-a-generation investment in infrastructure.
From Politico's Emilio Casalicchio
PMQs is over.
The Speaker ends by saying he is pleased the Commons has been able to provide equipment to No 10 to help the PM respond to questions remotely. But the Commons wants its kit back, he says.
Andrew Percy (Con) asks the PM to look again at tier 2 restrictions, and how they affect pubs that cannot offer substantial food.
Johnson says grants are available to help firms in hospitality and accommodation. He is keenly aware of how difficult it is for these pubs and hotels, he says. He says he will do his level best to support them.
He pays tribute to the people of Liverpool for supporting the mass testing pilot. That seems to have helped drive the virus down, he says. That offers a way forward.
Jon Trickett (Lab) says Rolls-Royce are about to offshore 350 jobs from the north of England. Does the PM agree those jobs should stay?
Johnson says Trickett is right to support Rolls-Royce. It is suffering from the problems in the aerospace sector, he says. He says Trickett is making "an excellent point".
Tonia Antoniazzi (Lab) says the pay freeze will mean a cut to wages in real terms for public sector workers.
Johnson says, at a time when the private sector has been badly hit, and private sector workers have seen a hit to their wages, the government has to be responsible. But he says public sector workers got a pay rise in July. And there is more to come in the spending review, he says.