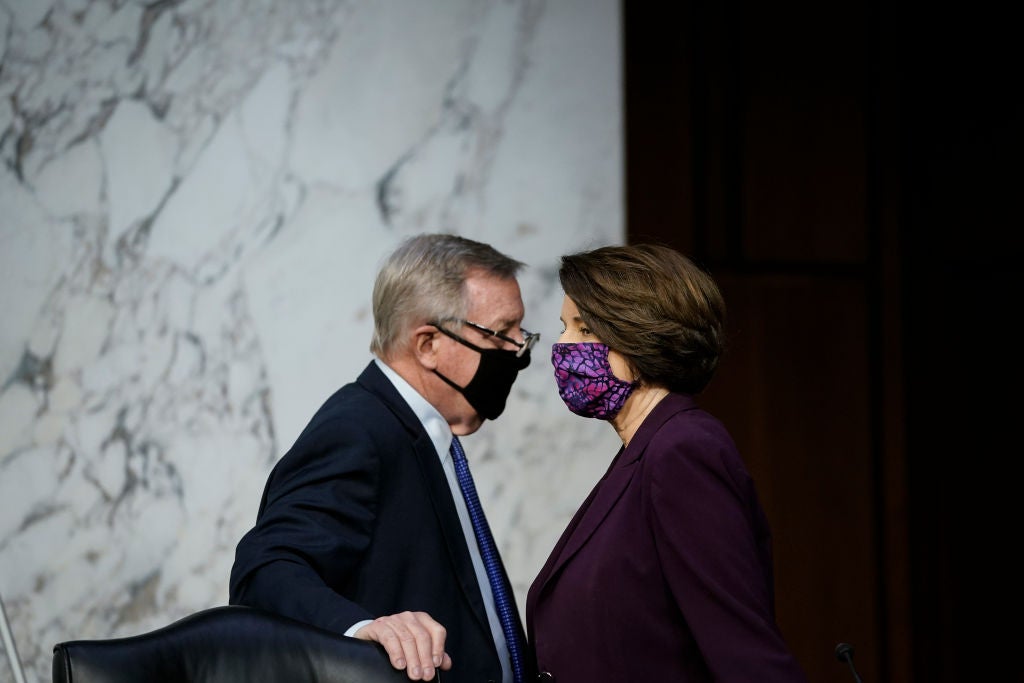 A report from The New York Times over the weekend revealed that in the final days of his presidency Mr Trump had teamed up with Jeffrey Clark, the acting head of the Justice Department's civil division, to execute the plan.
Only when DOJ leaders learned of the plan and unanimously threatened to resign did the president and Mr Clark back down.
"The Senate Judiciary Committee will conduct vigorous oversight of these matters," Democrats on the panel, led by incoming Chairman Dick Durbin of Illinois, wrote to Acting Attorney General Monty Wilkinson on Saturday.
The committee has asked Mr Wilkinson to preserve DOJ documents and memos related to the alleged plot by Mr Trump to install Mr Clark, who would then have set to work on a far-flung effort to force Georgia's state legislature to overturn Joe Biden's victory in the Peach State.
The Democrats' letter requests that the DOJ turn over to the committee all documents – text messages, emails, and other memoranda – related to two separate meetings: one between Mr Rosen and Mr Trump on 15 December and another between Mr Clark, Mr Rosen, Mr Trump, and the ex-president's lawyers on 3 January.
At the 3 January meeting, Mr Rosen ultimately persuaded Mr Trump not to install Mr Clark to help overturn the election results because it would prompt a mass exodus at the department, and the public relations damage to Mr Trump's crusade to overturn the election would outweigh the benefits of Mr Clark's leadership.
Mr Trump's plans to harness the DOJ to remain in power – even after decisively losing the 2020 election – are a direct affront to the core tenets of democracy, the president's critics have said.
And such efforts to overturn the 2020 election "culminated on January 6, when Trump incited a violent mob that attacked Congress as it counted the electoral votes and prepared to affirm President Biden's victory", the Democratic senators wrote in their letter over the weekend.
The erstwhile president spent much of the last four years butting heads with the leadership of his own Justice Department – constantly undermining the special counsel investigation led by Robert Mueller into ties between the 2016 Trump campaign and Russia, and urging Attorney General Bill Barr to launch a counter-investigation into FBI agents and DOJ leaders who had launched the initial probe.
Mr Trump and Mr Barr's relationship reached a low point in December when the then-attorney general told reporters that, "to date, we have not seen fraud on a scale that could have effected a different outcome in the election".
Congress certified Mr Biden's victory on 6 January. He took office on 20 January.