Interior
8 Things From Your Grandparents' Bedroom That Are Cool Again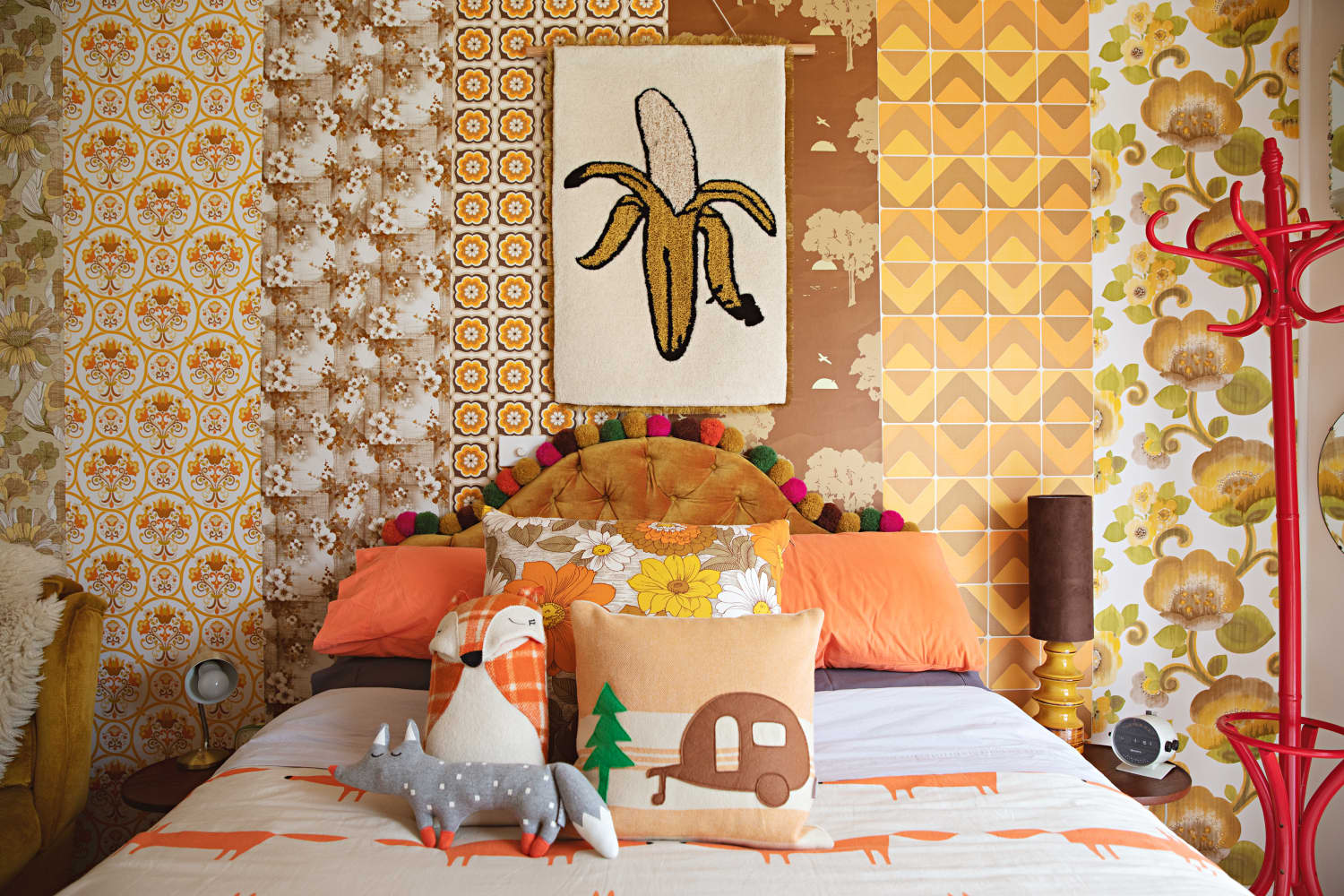 We independently select these products—if you buy from one of our links, we may earn a commission.
My earliest design memories go back to my grandparents' house, a modest California bungalow decorated with throwback hits. Think serveware from the '50s and '60s, '70s-era linens and wall hangings, a mishmash of mahogany and walnut furniture, and an extremely well-loved peacock blue recliner. Let me not forget the tchotchkes either, primarily of the feline variety. My grandmother, Anna, let her cat adoration be known by nestling her figurines into nooks and on side tables. Of course, the most fragile kitties lined her glass shelf display cases.
As I reflect on these memories, I'm not totally surprised by the fact that much of my Nana's decor is cool again, since much of it meshes pretty well with the eclectic grandmillennial aesthetic trend. In particular, I'm thinking of the bedroom essentials I remember from sleeping over, from quilts and pillows to decorative accents like swirly hobnail table lamps and floral paintings. Keep scrolling for a trip down memory lane, where you can shop eight grandparent-y bedroom pieces that are back in the spotlight, from authentic vintage finds to more modern reinterpretations.
Maybe your grandparents had these circular cushions on their sofa, but they work in a bedroom, too. For a retro touch, toss a couple of round pintuck pillows on your bed. Keep the look modern with a crisp, patterned sheet set and a solid duvet.
Buy: Round Corduroy Pintuck Throw Pillow, $49.00 from Urban Outfitters
A major bedding trend as of late? Quilts! They're not always the super colorful, quirky kind you probably slept under as a kid though; instead, modern, minimal designs are the ticket for a cozy bed that subtly nods to past decades.
Buy: Lightweight Quilt, Starting at $249.00 for Queen size from Brooklinen
Who's more famous for floral wallpaper than "Gam Gam," right? While a good 90 percent of your grandparents' walls may have been covered in a blooming motif, the right-now rendition designers are feeling is on an accent wall behind your bed. This sunny style from Rifle Paper Co. is peel-and-stick, and it comes in five different colorways, so you can go bright and bold, more subtle, or somewhere in the middle of those two with this pick.
Buy: Garden Party Peel & Stick Wallpaper, $50.00 for a 20-foot roll from Rifle Paper Co.
Technology never quite captured my grandparents' hearts, and in some ways, I think they were onto something. Low-fi alarm clocks, for example, are definitely making a comeback, and my grandfather always used his to get him out of bed each morning. I'm thinking about going back to a retro alarm clock, too, and this little cutie, which costs less than $15, is a good way to try this out in the new year.
Buy: Retro Alarm Clock, Starting at $10.99 from Amazon
If you weren't tucked in under a quilt for a sleepover at grandma's, you probably caught a few zzz's under a chenille bedspread. My nana had matching blush twin sets in her guest room, which, yes, I loved; like Elle Woods, pink was my signature color. These are back again, probably because they pack some color punch but retain an air of sophistication, too, thanks to their tone-on-tone textures.
Buy: Calista Chenille Bedspread with Fringe Border, Starting at $49.99 for a Twin Size from Collections Etc.
If there's a single decorative motif that defined my grandparents' home, it'd have to be hobnail, found on vases, drinkware, and even table tamps there. At least three out of their six nightstands featured a table lamp in this style, and all of them had a swirly silhouette like this vintage milk glass design.
Buy: Milk Glass Hobnail Lamp Glass, $27.00 from Etsy
As if blooming walls weren't enough, grandparents seemed to love a framed floral painting as well. If you can't get out to thrift a vintage bouquet watercolor or a sweet garden scene oil, opt for a contemporary version like this piece, which was done on heavy recycled white paper. It'd look great in a simple, thin light wood frame, especially if you're pairing it with other floral accents.
Buy: Blooming Art Print by Pen + Pillar, $20.00 for an Unframed 8-inch by 10-inch size from Domain by Laura Hodges Studio
Don't let the memory of an old, potentially past its prime shag rug make you think this kind of carpeting can't be modern. In fact, with its whisper light palette, this cloud-covered West Elm design will create a fresh, airy feel in any bedroom. Even better, it's sustainably sourced from New Zealand, made of premium wool, and comes in under $500.
Buy: Cloud Shag Rug, Starting at $400.00 for a 5-foot by 8-foot size from West Elm