Interior
10 Stunning Light Wood Pieces to Warm Up Your Home for the Winter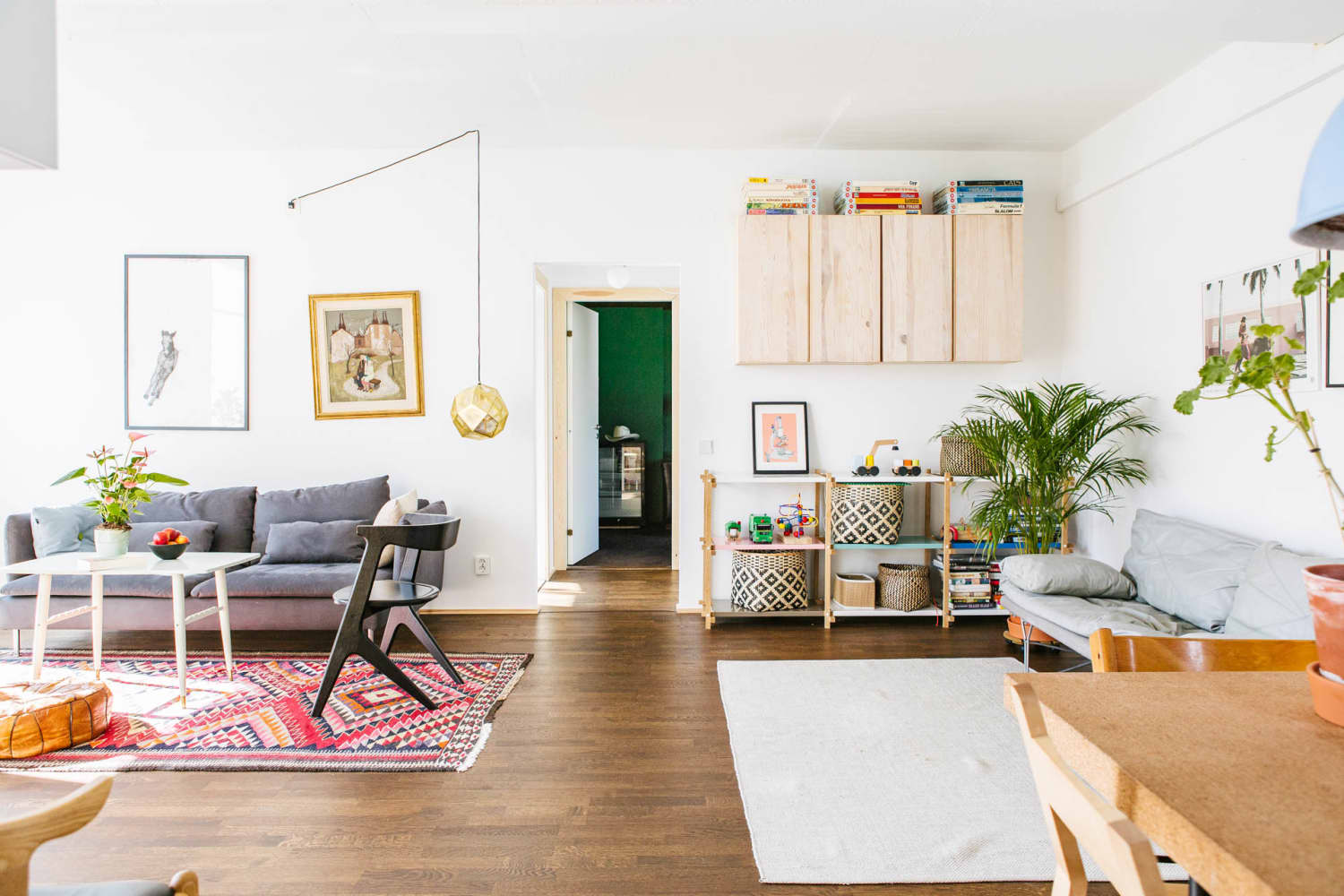 We independently select these products—if you buy from one of our links, we may earn a commission.
This won't come as much of a surprise, but as 2021 continues to unfold, airy, minimalist Scandi style spaces are still going strong. Designers and brands are continuing to move away from stark, sterile whites in favor of warmer natural and honey tones, choosing woods like birch, ash, maple, oak, and more for tables, seating, lighting, and beds.
What's making these blonde wood pieces more modern than in the past is an even cleaner design. Because silhouettes are generally simple and neutral, these items work well with pretty much any other accents in a room, and it's hard to go wrong. Need a little inspiration? Check out these 10 top picks for bringing the light wood look into your own home.
1. Project 62 Loring Wood Writing Desk
This two-drawer desk is 42 inches wide, which makes it just the right size for a WFH spot or your kid's Zoom classes. It has plenty of surface space for both a laptop and notebook (or snacks!) and also easily tucks into a bedroom corner. Choose the vintage oak version for an elegant, high-end look at a low price.
Buy: Project 62 Loring Wood Writing Desk, $120.00 at Target
IKEA's classic cubby catchalls are already beloved for their versatility; think shoe storage in a bedroom, drop zone in an entryway, toy organizer in a playroom. This EKBY model is even more adaptable. Thanks to its white oak stained finish and metal legs, it's dressy enough to live in a bedroom, a living room, or even a more formal dining area.
Buy: EKET Storage, $140.00 from IKEA
With its beveled edge and tapered legs, this beautifully-shaped dining table is also hearty, since it's made of solid ash wood with a protective lacquered finish that'll stand up to lots of use. Sure, it's not cheap, but design doesn't get more timeless than this; it's a piece you'll have for decades.
Buy: Ventura Table, $1,399.00 (60-inches wide x 30-inches deep) from Room & Board
4. Natural Woodstring Dining Chair
This reproduction of Hans Wegner's iconic Wishbone chair has a similar sculpted silhouette, solid wood frame, and woven seat—at just a fraction of the designer price! The light, airy look makes this a perfect pick to balance bulkier pieces in a room.
Buy: Natural Woodstring Dining Chair, $115.20 at The Home Depot
Get the best of both worlds—a solid oak frame and an upholstered linen headboard—in Parachute's roundover bed that's a splurge-worthy modern heirloom in the making. For contrast, pair this smooth backdrop with waffled bedding topped with a cozy chunky knit throw.
Buy: Ojai Bed, $2,750.00 for a Queen size from Lawson-Fenning for Parachute
6. Blomus Simple Willow Tray
Maybe you can't afford a new major piece of blonde wood furniture. Not to worry; you can still get some of that same visual warmth and lightness with a small decorative accessory like a tray. This simple curved wooden piece is perfect for serving and can even be used for organizing items on your dresser or coffee table, too.
Though it's made of rustic oak veneer and linen, this mid-century style lamp has a polished feel, too, with its angular tripod base. Giving off diffused light via three different brightness settings, it has a spa-like effect in a space.
Buy: Lynette Floor Lamp, $329.99 from World Market
Talk about blending form with function: This untreated oak mirror from the Danish brand Skagerak doubles as low-key art on any shelf or tabletop surface. Set yours near a window; it's double-sided, so it'll pick up light and bounce it around the room.
Buy: Aino Mirror, $115.00 from Horne
9. Linon Home Stacking Stool
Sometimes it's the simplest pieces that bring the most artful touches to a room, and that's exactly what you get with this versatile set of stackable stools. Use them as extra seating in the living room, or pull the pieces apart and try one or two in lieu of a traditional side table, nightstand, or plant stand elsewhere in your home.
10. Aquala Bamboo Bath Caddy
Even the bathroom can get in on the light wood trend! This bamboo caddy is slightly darker than birch or ash, but it will still introduces extra warmth and functionality into your tub setup.