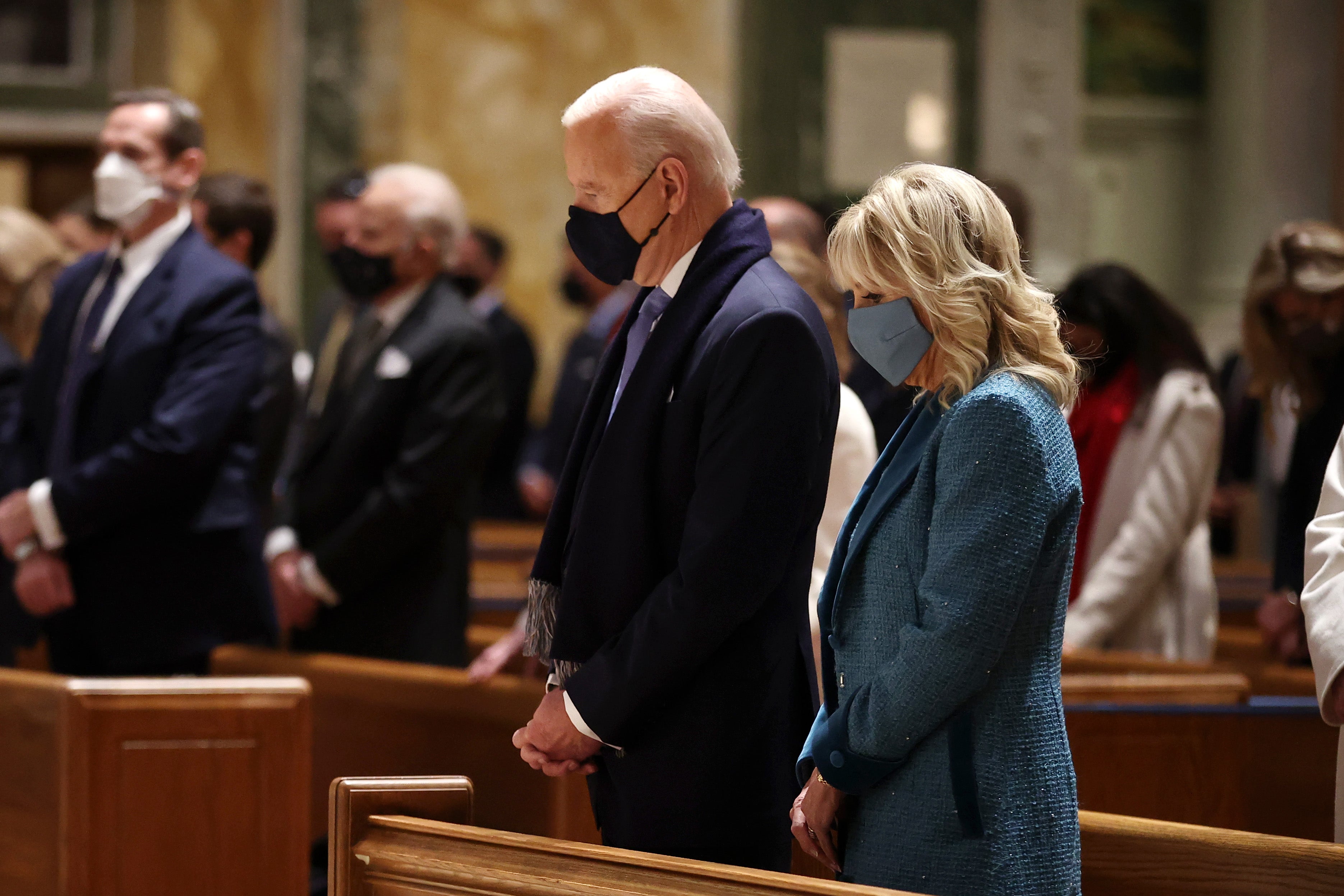 The future first lady, who began the day attending Mass alongside her husband, President-elect Joe Biden, wore a blue wool tweed coat and dress by New York City-based designer Alexandra O'Neill of Markarian.
The dress features "a chiffon bodice and scalloped skirt", according to InStyle, and is "hand-embellished with Swarovski pearls and crystals".
According to the designer, the colour blue was chosen to "signify trust, confidence and stability".
Dr Biden paired the outfit, which was "crafted by a small team in the heart of New York City's Garment Center", with a mask by the designer in a complementary shade of blue.
O'Neill started the luxury women's fashion label in 2017, with each item "thoughtfully made-to-order in an effort to reduce waste", according to Markarian's website.
Since its inception, the brand has been popular with celebrities, including Constance Wu, Kate Hudson and Kerry Washington.
For Inauguration Day, Ms Harris, who will make history as the first female and first Black and South Asian vice president, wore an outfit by Black American designers Christopher John Rogers and Sergio Hudson, according to CNN.
The future vice president opted for a bright purple coat, which she paired with a black mask.
Rogers, from Baton Rouge, is also based in New York City, where he creates clothing with a "focus on effortful dressing, directed towards an individual with a strong sense of self", according to his website, while Hudson is based in South Carolina.
The future president of the United States and Doug Emhoff, the second gentleman, both opted for suits by American designer Ralph Lauren for Inauguration Day.
On social media, the display of support for American designers has been met with praise, with many applauding the sartorial choices.
"I know, seems trivial, and yet … it matters. American designers. One legend, one up-and-coming talent," reporter Susan Stumme tweeted in regards to the future president and first lady's outfits.
Another person wrote: "Kamala Harris and Jill Biden are both wearing outfits designed by American designers! Thank you, it's great to have America recognised again!"
The outfits come in stark contrast to Melania Trump, who for her last day in the nation's capital wore a $2,700 black dress by Dolce and Gabbana, a Chanel jacket and carried a black Hermes Birkin bag estimated to be worth $70,000, which has been deemed "tone-deaf".
"Melania left wearing Chanel and carrying a croc Birkin. Literally arrest these people," one person tweeted.