Top News
It's the end of week one for Trump's impeachment trial and we're about to find out if Republican Senators can do their jobs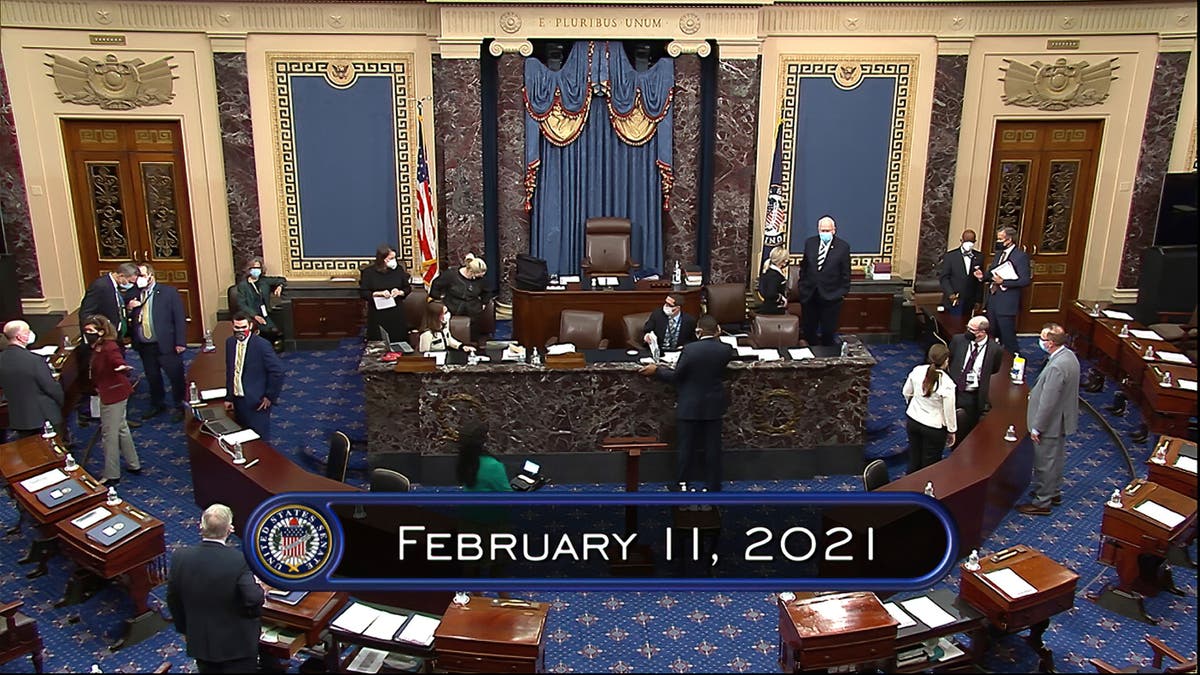 Over the course of two days, the House impeachment managers presented an ironclad case for convicting former President Donald Trump. Few could disagree that what was portrayed was a holistic condemnation of Trumpism as a violent, extremist, authoritarian ideology.
House Impeachment Manager Stacey Plaskett (D-USVI) aired new footage which outlined, in nerve-racking detail, just how close lawmakers were to being overtaken by the violent insurrectionists on January 6th. Capitol Police Officer Eugene Goodman was seen sprinting past Senator Mitt Romney (R-UT), leading him away from rioters; Vice President Mike Pence and Senator Chuck Schumer (D-NY) were rushed out as insurrectionists stood 58 steps away from them. Speaker Nancy Pelosi's (D-CA) staff managed to barricade themselves in an office just seven minutes before the violent mob made it to their hallway while hauntingly singing, "Nancy. Oh, Nancy? Nancy. Where are you, Nancy?"
That new footage laid out the stakes. If just a few details had been different that day — if Officer Goodman didn't lead the insurrectionists away from the Senate, and if other officers didn't hold them off from the House — this could've easily been a mass casualty event.
It was with this weight that the House impeachment managers prosecuted their case, which was presented in 3 parts: the provocation, the attack, and the harm. As Lead House Impeachment Manager Jamie Raskin (D-MD) said, there was a method to this madness. So let's consider each in turn.
First, the provocation. Impeachment managers went beyond just the January 6th speech and walked through Trump's months-long disinformation campaign to radicalize his base into believing the election was going to be stolen. Trump spent $50 million on ads promoting that Big Lie. The impeachment managers played video of Trump repeatedly claiming the only way he could lose is if the election was rigged and then played interviews with Trump supporters who were regurgitating those claims. The base was primed and ready.
Impeachment Manager Madeleine Dean (D-PA) expanded the case further, outlining how Trump ignored adverse court rulings, pressured and threatened election officials like Georgia Secretary of State Brad Raffensperger, attacked members of Congress, pressured the Justice Department, and attacked Vice President Pence. During this post-election period, there were armed "stop the count" protests and a thwarted terrorist plot in Pennsylvania targeting election workers at the convention center. This made it clear that Trump knew his election lies were fueling violent threats; he was publicly warned about it by Georgia Election Official Gabriel Sterling. In response, he escalated his rhetoric.
Impeachment managers also presented overwhelming evidence of Trump's history of inciting political violence. They went from the 2016 campaign to Charlottesville to Trump's "LIBERATE MICHIGAN!" tweet to Trump's praise of his supporters who tried to drive the Biden-Harris bus off the road in Texas.
Manager Plaskett went on to play a recording of Trump's "stand back and stand by" moment from the first presidential debate. Plaskett said that the Proud Boys heard this loud and clear, making it their new slogan. She then showed members of the Proud Boys at the Capitol and highlighted all the public planning that occurred ahead of the insurrection from extremists online. Everyone knew violence was incoming, including Trump.
Secondly, we turned to the attack itself. After establishing Trump's role in pushing the Big Lie and organizing the rally, House impeachment managers played video directly connecting Trump's January 6th speech to the violence that followed. As Trump told the crowd to "fight" and go to the Capitol, rally-goers echoed his call to action and chanted "Storm the Capitol!" in response.
Footage of insurrectionists shouting "We were invited here by the president of the United States!" and "We are listening to Trump!" echoed in the Senate chamber. There was also footage of an insurrectionist literally reading out the 45th president's tweets. They were just following orders. They believed they were at Trump's command.
In a key part of the case seeking to reveal Trump's state of mind during the insurrection, Manager Raskin read reports that alleged Trump was delighted by the insurrection while it was happening, and included the words of Senator Ben Sasse (R-NE), who had alleged the same. The then-president took no action to stop the attack for hours, and when the National Guard was called in, he had nothing to do with the decision.
Instead of immediately tweeting "Stop the attack!", Trump sent out tweets encouraging the insurrectionists, telling them he loved them. In one of the most important parts of the presentation, Manager David Cicilline (D-RI) discussed Trump's phone call to Senator Tuberville (R-AL) to try and get him to further delay the certification of the electoral count around the same time that Pence was being evacuated from the Capitol building. Tuberville confirmed he told Trump that Pence was just taken out of the Senate chamber. And what did Trump do when he knew his vice president was in danger? He tweeted an attack directed at him.
Manager Cicilline then played Giuliani's voicemail he left on the evening of January 6 in which he urged Tuberville to further delay the electoral college vote. Trump and Giuliani's calls make it clear that Trump shared the goal of the insurrectionists. As Manager Ted Lieu said, Trump didn't show remorse after the attack — he showed defiance.
House impeachment managers also unleashed prebuttals of the incoming free speech and due process arguments from Trump's lawyers. As they closed their case, Manager Neguse returned to the stage to say that the bar for incitement must answer these questions: Was violence foreseeable? Did Trump encourage it? And did he act willfully? Neguse said the answer to all three is yes.
Lastly, we come to the harm — and Republican capitulation. While Senator John Thune (R-SD) and Susan Collins (R-MA) called the House impeachment managers' case "compelling" on Wednesday, some barely paid attention and others attacked the case. Senator Josh Hawley (R-MO) was flipping through papers with his feet up throughout Wednesday's proceedings. Senators Lindsey Graham (R-SC), Marco Rubio (R-FL), and Ted Cruz (R-TX) reportedly left the room during a part of Thursday's presentations.
Senator Rick Scott (R-FL) called the impeachment trial a "complete waste of time." Senator Graham tweeted: "The 'Not Guilty' vote is growing after today. I think most Republicans found the presentation by the house managers offensive and absurd."
What would be offensive is Senate Republicans failing to hold a former president accountable for inciting an insurrection against American democracy. What would be absurd is to continue to tell the American people to "move on" from this deadly attack without taking action to ensure it doesn't happen again.
As we await another bumbling performance from Trump's lawyers on Friday, it's sad to know that even if Bruce Castor shows up in a bathrobe and shades reciting Lil Wayne lyrics instead of a coherent defense, most Senate Republicans would still vote to acquit.
The House impeachment managers have done their job. We'll see if Senate Republicans ever decide to do theirs.